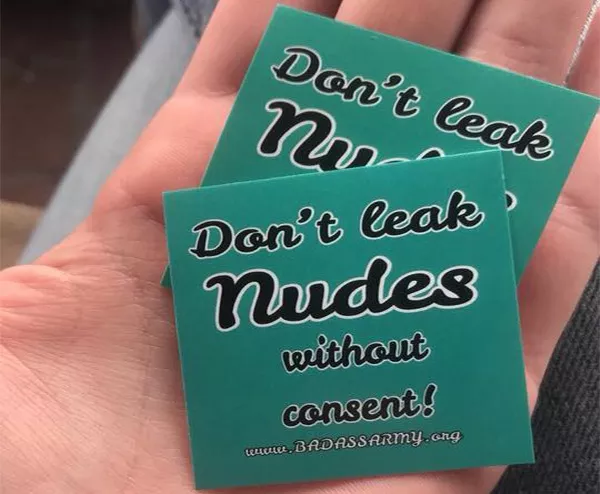 Courtesy of Elizabeth Ann
In April, police shut down the illegal revenge porn database Anon-IB, but as we reported,
Ohio still doesn't have any protections
in place for victims of revenge porn. Ohio is one of
only 12 states
without any sort of protective legislation, and for Clevelander Elizabeth Ann, enough is enough.
"I'm a victim first, and an advocate second," Ann tells
Scene
. "It was an act of revenge against me that I have devoted a large part of my life trying to end."
Victimizing
one out of every 25 women
and 17 percent of the LGBTQ community, there are over 10 million Americans affected by revenge porn across more than 2000 websites and counting, a report by the Data & Society Research Institute found.
Ann says that no one deserves to feel the way that she's felt and she has since undergone therapy after photos were uploaded of her without her consent. Since uncovering the leaked photos, Ann has begun working with BADASS (
Battling Against Demeaning and Abusive Selfie Sharing
) and other victims of revenge porn to make legislative change.
On Saturday, June 30, a national march is taking to the streets of Pittsburgh to combat the image-abuse epidemic victimizing millions of Americans. Knowing that not everyone would be able to attend the march in Pittsburgh, Ann has helped organize an event right here in Cleveland.
"I wanted to combine people with my love for music, cocktails and bowling to have a stress free night where victims and supporters could not only meet face to face, but try and understand each other as well," says Ann. "Nothing brings people together like the power of music, and as an aspiring music therapist, I wanted to find a way to help the victims heal as well as create a safe space for them."
Ann's event is called "Bands, Bowling, and Badasses," and will raise funds to victims attend the march that would otherwise be unable to. In order to pass the
Enough Act
, the march is hoping to bring out as many victims as possible that are willing to share their stories and experiences regarding nonconsensual photo sharing.
A major television network is also interested in Ann's story, and is arriving in five days to learn more about her activism, victimhood and survival. Ann explains that the network had been in contact with BADASS looking to put together an episode highlighting victims of revenge porn, but needed victims to have been over 18 when their images were shared, a small margin for many victims of this crime.
"I expressed interest in helping with whatever they needed and never thought my story would even be considered," Ann says.
Bands, Bowling and Badasses
takes place Sunday at Mahall's 20 Lanes. Local bands like Youth Pallet, Old Souls, RAM ONES, Mimi Arden, C-Level, and Runaway Brother are all scheduled to perform. Raffle prizes and specialty cocktails will also be available for the occasion.
Entry is $10 at the door, beginning at 6:30 p.m. Mahall's 20 Lanes is at 13200 Madison Avenue in Lakewood.