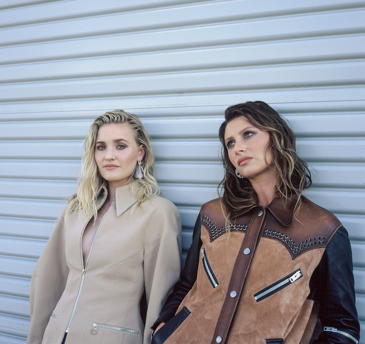 Last year, the pop duo Aly & AJ returned after a 10-year hiatus with the EP
Ten Years
, an album of introspective tunes laden with '80s-inspired synthesizers.
Album opener "Take Me" features rattling drum machine beats and falsetto vocals and sounds like
Like a Virgin
-era Madonna.
"The Distance" is a breakup tune that nicely mirrors "Potential Break-Up Song," the band's big hit from 2007, Currently on a North American headlining tour that will hit 15 cities, the group comes to
House of Blues
on Saturday, June 30.
In a recent conference call, sisters Alyson "Aly" and Amanda "AJ" Michalka both talk about the group's comeback.
What kind of music did you listen to while growing up?
Aly:
Growing up, we kind of listened to everything. I mean, it was primarily gospel and classic rock. We grew up with the Beach Boys and the Police and Led Zeppelin and Heart. Those would be the main influences. Our mom was on the gospel side and our dad was on the classic rock side.
At what point did you start playing together.
Aly:
We started writing when we were 13 and 11, or something like that. We were really young.
AJ:
The first song we wrote together was called "Protecting Me." It's on our first record, and people still remember it. It was just a sweet song about our parents who protected us and made us feel safe because we had such a great family structure.
What was it like making that first album, 2005's Into the Rush?
Aly:
It was really fun to make. We hadn't made a record, so it was a whole new experience for us. We were excited to be in the studio and order out and get dinner there and be up until midnight. Most of the songs had already been written for that album. We did some additional co-writing with other people on songs we already had started.
AJ:
It wasn't stressful. It was an easy time for us. We had all these songs ready to go and we had just gotten signed. We didn't realize how hard it is to get to that level and how integral it is to your career. We thought it was this cool opportunity, but it was very fun and kind of effortless. Looking back, I think, "What an opportunity we had and at such a young age."
Insomniatic received critical acclaim when it came out. What did you differently with that album?
Aly:
We were concerned about delivering music the label was excited about and that the fans loved. We really wanted to have a good single. We didn't think about that with [our debut]
Into the Rush
.
AJ:
The record was a quiet success. Having a single like "Potential Break-Up Song" that has maintained its power for so long is really amazing. I look back, and I don't regret the extra effort. That record got us to the next level.
Did something specific inspire "Potential Break Up Song"?
AJ:
It was actually not about anyone in particular. It's just about what life is like. It's like, "This is the song that I'm going to break your heart to."
Aly:
We wrote it in one night. We had finished 80 percent of it and had the rough demo vocal we had put down and the music that was the main hook of the song on a CD. At that point, we weren't driving ourselves to the studio yet. We had our security drive us to Santa Monica, where we were recording. On the way home, we had him put the CD on in the song, and we finished it in the car. It was one of those songs that flowed out organically. It started with a beat, which we had never done before. One of our producers suggested we do that and get inspired by that, and it worked.
Talk about the decision to rechristen the band 78violet.
Aly:
It was a period of time when we didn't know how to address our band as Aly & AJ. We had put out two records as well as a Christmas record. We had toured and started really young. We didn't know what our new direction or sound would be, but we needed to release new music. We wanted to branch out and give ourselves a different band name and have that experience from a younger past and figuring out who we were as adults. I don't think it necessarily worked. But it was so rewarding to release a song like "Hothouse." People responded to that era even though it was short-lived. We realized after ten years that we needed to go back to our first names and give the fans what they want. It was a no brainer. That moment was a sweet moment for us.
Did you split with Hollywood Records too?
Aly:
Yeah, at that point, we became independent artists. We needed to rebrand ourselves. We wanted to shed the preconceptions that we were manufactured, which we really weren't. Along with [singer] Jesse McCartney, we were one of the few artists who did what we wanted to at that time. New people were coming into the label, but music wasn't their main passion. They didn't think we were real musicians. That offended AJ and I because we were real artists. Attention was given to these other artists who weren't even writing their own music.
When did the songs for your latest album, Ten Years, start to come together?
Aly:
They started to come together in 2016 in April. We started working with two co-writers, Jamie Sierota and Ryan Straker. Those songs are born from those sessions. We met them through a mentor of ours, Mike Elizondo. He's an incredible producer and songwriter at Warner Bros. right now. We came to him and asked him to help us and he introduced us to those two incredible writers that we've worked with for the past two years.
You've self-released the album. What was that like?
AJ:
There is an independent label we worked with called AWOL. It's been awesome. There are so many great independent artists doing it correctly and we've been able to accomplish that. We want to sign a major label deal and we think it's the best fit for the kind of music we do. Radio support is integral. Right now, we're comfortable where we're at.
What made you want to adopt an '80s synth pop sound for the songs?
AJ:
Aly and I were ready to do something totally honest to our passion for music, which happens to be '80s pop.
Aly:
It's the type of music we wish we had written. If I heard another artist singing these songs, I would be jealous because they're dope songs. We got that inspiration through the music we listen to and because of our producers. The melodies of the songs we were exploring work with well with an '80s nostalgic production.
Where did you record?
AJ:
We did some of it in our writers' house. We did some of it at Phantom, which was amazing. It's a beautiful studio that has a lot of history to it. We had an amazing mixer, and the producers did an amazing job. We were very detailed about what we wanted.
You wrote "I Know" after a friend died of cancer. Talk about that.
Aly:
We wrote it very soon after an acquaintance of ours passed away. It was someone we hadn't seen in a while. We wanted to write a song that wasn't an obvious song about someone passing away but could be about someone going through depression or a relapse or whatever it might be. It came out very quickly. I think we finished it in two days.
"The Distance" is really introspective. What's the story behind that song?
AJ:
It's personal to me. I was in a long-distance relationship for two years. It was important to me, and we tried to make it work. It became a battle that I didn't want to continue doing. It's personal to me in that it marks that chapter of my life. It's about trying to make something work as much as I can but eventually having to sever those ties.
It's also about the distances between people, whether they're physical or emotional.
AJ:
Absolutely.
Have there been any remixes of the songs?
AJ:
We had a guy remix "Take Me," which is really neat. I would love to get some of the other tunes remixed. It would be fun to eventually do something with Calvin Harris.
Aly:
We're obsessed with him.
Is there a full-length in the works?
AJ:
After this tour, we'll head right back to the studio. We might release another EP first and then conclude those two chapters with a third chapter.
What will the show here be like?
AJ:
It's really fun. It's a lot of synths. It's high energy. It's a mix of old and new. We have a giant disco ball that we take on the road with us. It's a big party, and we can connect with the fans in a great way. The live show is locked in. Last night in Toronto, it was so insane. We even played "Potential Break-Up Song" twice. It's going to be a great show. You don't want to miss it.
Aly & AJ, Rainsford, 8 p.m. Saturday, June 30, House of Blues, 308 Euclid Ave., 216-523-2583. Tickets: $20 ADV, $25 DOS, houseofblues.com.