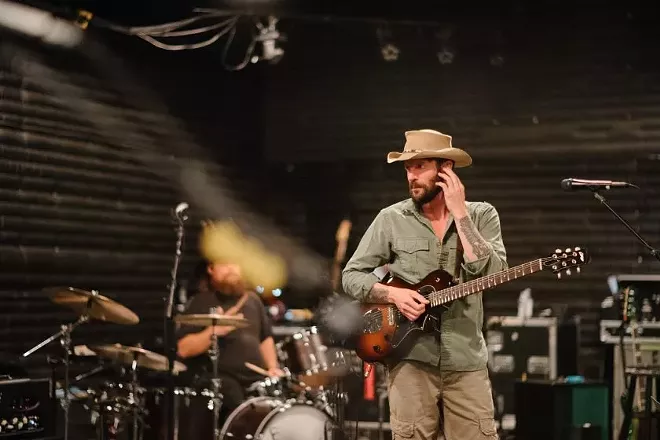 Singer-songwriter Ray LaMontagne spent his childhood moving from place to place. At the time, he found it disruptive. Looking back on it, he thinks otherwise.
"I grew up all over the country — Nebraska and Tennessee and Utah," he says via phone. He performs with opener Neko Case at 7:30 p.m. on Saturday, June 30, at
Jacobs Pavilion at Nautica
. The show supports his new album,
Part of the Light
. "[When I moved to] Maine, that was just another stop along the way. I think I'm a child of America more than I'm a child of any one particular place. When you're growing up, it's kind of tough [to move around so much], but looking back on it, I'm so glad we moved around as much as we did."
LaMontagne got his start nearly 20 years ago when he recorded 10 songs for a demo album that he sent to out to music venues in the attempts to get gigs as an opening act. He succeeded and opened for John Gorka and Jonathan Edwards. That gig led to others, and LaMontagne would ink a record deal and issue his major label debut,
Trouble
, in 2004. Ethan Johns (Kings of Leon, Paul McCartney, Ryan Adams) produced the disc.
"It's hard to cast my mind back that far," says LaMontagne when asked about the trials and tribulations of recording his debut album. "It was a new experience for me. I was a carpenter at the time. My wife and I were living off the grid on a small cottage I built. We had two young boys who are now grown men. Our relationship started when we were young. We've been together for 29 years now and have known each other since we were 8. What I remember most is that I had to leave Sarah off the grid with two young boys to take care to go to L.A. to get a record made. It was a difficult time for all of us."
Things would get better in the wake of the album's release. Several of the album's songs would appear in popular TV programs and the tracks "Shelter" and "How Come" would find their way into major motion pictures.
After making his impressive debut, LaMontagne would tour and record steadily.
Part of the Light
represents his first attempt at producing a record himself. He says that taking control didn't present any major complications even if LaMontagne has always worked with a producer of some stature in the past.
"It's not a whole lot different than having a producer in the room or collaborating with someone else," he says when asked what it was like to produce
Part of the Light
. "[My Morning Jacket's] Jim [James] and I produced [2016's]
Ouroboros
together, and it's really the same thing. As a producer, the most important role I had was to make sure I had the people I wanted in the room. Working with Jim, we collaborated on those choices. Working with [the Black Keys/the Arcs] Dan [Auerbach], he made those choices. That's what it comes down to. Once you're in the room, it's the same process. You communicate what you want and ask your friends to help you get what you want. Hopefully, you have some happy accidents along the way and it turns out better than you think it will."
Rather abstractly, he says he sought to pay particular attention to the album's "color." By that, we think he means the sonic textures and tone.
"For this record, it came down to mic choices," he says. "And there was a lot of discussion about the synth choices and what other kinds of colors we wanted. I also really wanted to get a very distinct drum sound. That can sound silly, but it's an important thing. There were specific references I was making at the time about where the drums would sit and where my vocals would sit. These are things we talked about in the studio."
The tender album opener, "To the Sea," sounds like a traditional folk ballad as LaMontagne sings in a hushed voice about the "shells that we found in the sand" and "clouds in the blue." The title track features acoustic guitars and harmony vocals. Trippy synthesizers kick in mid-song.
"It just felt like ["To the Sea"] summed up where my head has been at," says LaMontagne. "All the other songs revolved around that.
"Paper Man" has more heft to it thanks to its distorted guitars, and the same goes for "As Black as Blood is Blue."
"It's a lot heavier than the other songs," LaMontagne says when asked about "As Black as Blood is Blue." "Sometimes, you just need to turn it up."
"No Answer Arrives" features a great guitar riff and some old school organ; it has the kind of grit that Auerbach brought out of LaMontagne on 2014's
Supernova
. LaMontagne, who opens up for the first time during our short phone call, says it speaks to our troubled times.
"I think it ties into the theme of all the songs," says LaMontagne when asked about the tune. "It's a feeling that our culture has taken a turn, and it feels like there's a cultural illness. The pendulum has swung so far in one direction. Everything feels strained. There's ugliness thrown in your face every day, and you just get saturated with it. I just hope that it's going to swing back the other way soon."
We couldn't agree more.
Ray LaMontagne, Neko Case, 7:30 p.m. Saturday, June 30, Jacobs Pavilion at Nautica, 2014 Sycamore St., 216-622-6557. Tickets: $39.50-$49.50, livenation.com.