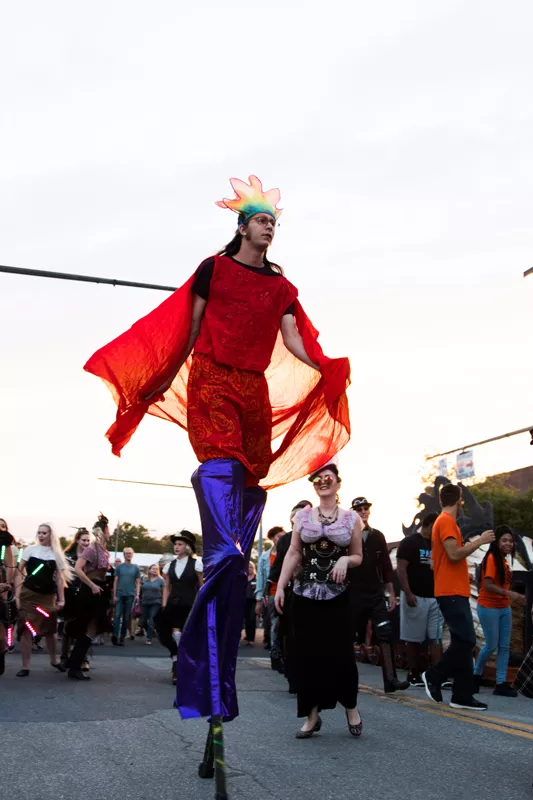 Launched four years ago, the
FireFish Festival
transforms downtown Lorain into a stage for vibrant arts performances. This year's fourth annual event will take place from 4 to 11 p.m. on Friday, Sept. 21, and Saturday, Sept. 22.
Oreganizers promise there will be even more diversity in art and performances. The event will conclude with "the most spectacular fiery finale yet with an interactive component and theme of 'release.'"
Friday night will feature headliner Carlos Jones & the P.L.U.S. Band. Saturday will feature "non-stop" international music, dance, theatre, art and fire performers, both on stages and in the hidden alleys, empty storefronts, balconies and fire escapes on Broadway Ave.
The dance group Jasmine Dragons will be on hand as will Sammy De Leon and his fusion/salsa band, Oberlin samba dancer Alysia Ramos, the Exotic Fruit Club and the Great Lakes Light Opera. It will all lead up to a "one-of-kind" spectacle of the burning of the fish, a giant sculpture designed and choreographed by interdisciplinary theater and performance artist Daniel McNamara (alumni of the Bread and Puppet Theater.)
"We are delighted that FireFish has grown to be an annual destination for art, music and fun lovers throughout Northeastern Ohio," says Executive Director James Levin in a press release about the event. "With the themes this year of 'diversity' and 'release,' FireFish will continue to create a celebration for the entire community offering outdoor pageantry that makes this festival unique and unforgettable. We are thrilled to be attracting high profile artists wanting to be a part of the creative FireFish experience and hope to continue to draw thousands of new visitors to this hidden gem on the water."
In keeping with the theme of "release," patrons can bring flammable artifacts to a ceremonial bamboo altar which, when it burns along with the fish, will symbolize letting go of the past.
"The dazzling procession with percussion, fire performers and belly dancers leading to the burning of the fish has become a ritual and this year, and we want to create an even more memorable spectacle," says featured artist Daniel McNamara. "By inviting the community to release things, ideas and feelings that no longer serve us personally and societally, participants can gather around the fire to experience a cathartic and emotional rebirth which mirrors the emergence of Lorain from its decaying past to a new vibrant artistic mecca."
Community members, students and teen arts apprentices from the LCCC Summer STEAM Teen Academy will create the centerpiece of the festival, the giant FireFish sculpture that comes to life spewing fire. The fish will be created from upcycled paper and cardboard.