Van Aken Market Hall rendering/RMS
When the Van Sweringen brothers were developing the idyllic Village of Shaker Heights in the early 20th century, they fashioned a residential community largely devoid of industry and commercial districts. This "garden city" was to be a leafy oasis that stood in stark contrast to the crowded, cacophonous downtown Cleveland, which was easily accessible by train.
A sweeping $90-million public-private project between the City of Shaker Heights and RMS Real Estate, dubbed Van Aken District, seeks to tweak that blueprint in a way that will create an active urban hub on the edge of this historic suburban community. The years-long endeavor has reshaped one of the worst intersections in the state while giving rise to a sincere and purposeful Main Street that is the antithesis of contrived lifestyle centers.
"Together with the city we created a vision of what we're trying to create, and that vision is the anti-corporate, anti-lifestyle center for the residents of Shaker," explains Luke Palmisano of RMS. "When you arrive here, we want you to feel like you're entering an extension of the city, not a private development that was just plopped down."
The 18-acre parcel is modest relative to today's Disney-sized outcroppings, with 80,000 square feet of restaurants and retail, 64,000 square feet of office space, and 103 apartments, all clustered around a half-acre green space. Situated as it is at the terminus of the RTA Blue Line, the district also is transit-orientated.
As the project nears another milestone, we're learning more about the mix of food and beverage tenants that will occupy both the stand-alone spots as well as the Market Hall. But even that angle of the venture is being managed very differently from other development projects, where a comprehensive roster of high-profile national brands is unfurled with much fanfare.
"We're not rushing to fill everything; it's more about finding the right fit of tenants that complement each other," Palmisano notes. "This is such a unique and special project that we have to get it right. All it takes is one bad national chain to destroy the reputation that we're trying build."
Like in the real world, the developers see Van Aken District as a living organism that will evolve over time. There are few large spaces that will be hard to turn over, and most of those are spoken for by established chef-owners. James Beard Award-winning Jonathon Sawyer will open a new concept, while another James Beard Award-winning chef, Miami-based Michael Schwartz, will open Genuine Pizza, a fresh take on his popular Harry's Pizzeria concept.

Mitchell's Homemade Ice Cream will occupy a highly visible perch just steps from the park, where concerts, block parties and alfresco movie nights will be held. Rising Star Coffee Roasters and Restore Cold Pressed are two other great, local brands that have been attached to the project for some time.
Some of the most interesting things will be taking place in the 20,000-square-foot Market Hall, a food-focused hub that is taking shape in the former Fresh Market grocery building. Modeled after some of the best food halls in the nation, the airy space is less of a food court than it is neighborhood gathering place with food. The building is ringed by anchor tenants that touch both inside and out, while the interior is a grid of flexible 10-foot-by-10-foot stalls that can be rented solo or combined into larger units, making the hall suited both to small startups and existing businesses.
"The Van Aken Market Hall will function as the heartbeat of Shaker's new downtown and we're developing the hall in a manner consistent with our overall vision: To create a vibrant and irresistible place," explains RMS president Jon Ratner. "We can achieve this by activating the spaces with a combination of amazing tenants and dynamic programming to give patrons a reason to keep coming back. We've looked to partner with the kinds of tenants who understand this vision and who want to deliver the quality and creativity that the patrons of this marketplace deserve."
Banter has staked a claim on four stalls for its 400-square-foot "pocket-sized Banter," confirms owner Matthew Stipe, adding that he's been searching for the right eastside opportunity for some time. While smaller than the original in Detroit Shoreway, the new outpost will offer a similar, albeit scaled-down, roster of poutine and sausage dishes. It will also function as a bottle shop that stocks a sharp selection of craft beer.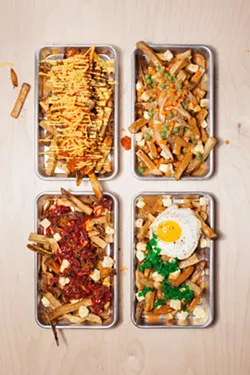 Banter poutine. Photo by Peter Larson photography
"The No. 1 thing that attracted us to the project was the way they were cultivating the other businesses that would go in there," Stipe explains. "The owners took a more local approach in an attempt to sort of duplicate the great local movement that we have going here on the west side."
Adam Gidlow had the same reaction when he learned of the project. By his own account, he's a patient, prudent business owner, who waited a full 15 years to expand his beloved Cleveland Heights bakery On the Rise into an adjacent space.
"I think it could be a really cool place and I don't not want to be a part of it," he says. "It's close enough so that we'll be able to make easy trips back and forth from the bakery, but I don't think it will cannibalize our existing business."
On the Rise will occupy three 10-by-10 stalls that will echo the look and feel of the bakeshop on Fairmount Boulevard. A 20-foot frontage will display breads and pastries, while a small kitchen prepares popular made-to-order sandwiches like the banh mi or grass-fed roast beef.
While the Market Hall will have common areas with both conventional and soft seating, as well as restrooms and amenities, some operators will be able to incorporate their own space into the larger hall. That's the case with Craft Collective, an offshoot concept from Bottlehouse Brewery. The large corner space opens both to the food hall and outdoors to a patio and will be equipped with a 28-foot bar and furnished with six 12-foot picnic tables.
Owner Brian Benchek describes the concept as a 70-seat taproom that specializes in ciders, sours and meads, about 20 percent of which will be from Bottlehouse's tanks. The rest, along with the selection of "clean beers," will come from other producers.
"Our model going forward is to open other taprooms rather than go production," Benchek explains. "We'll partner with a lot of small breweries in the area who aren't in wide distribution."
Craft Collective will also offer a bourbon-heavy craft cocktail program along with some wine. An onsite barreling component, tasting flights and workshops will introduce an educational aspect to the venture, but food will not be served.
"We're not in the food game, so it's perfect to be in the middle of this food hall," says Benchek. "But like our other taprooms, this is going to be a place for the community to gather, a central hub where you can hang out to drink and eat."
Kevin Malhame and his wife Katy founded Northstar Cafe 15 years ago, when they were in their 20s. That small regional chain has grown to include four locations in Columbus and one in greater Cincinnati. Building upon Malhame's Lebanese heritage, the couple developed a fast-casual Middle Eastern concept called Brassica. When it opens up at Van Aken District, in a glassy 2,500-square-foot corner space, it will be the first outside Columbus.

"The restaurant was inspired by great falafel shops around the world," says Malhame. "Our approach to both Northstar and Brassica has always been that they're great places for people who eat a plant-based diet, but it's rare to find more than two of those people together at a time, so you have to be a flexible restaurant."
Diners select between a bowl of lentils and rice, greens or a sandwich assembled in fresh-baked whole wheat pita. They're topped or filled with hummus, baba and a choice of falafel, braised Niman Ranch brisket, roasted chicken shawarma, or house-cured lamb bacon. A garden of fresh, pickled and spicy vegetables are available as garnishes, as is an assortment of sauces.
It's an understatement to say that both Northstar and Brassica are in-demand brands, with Malhame fielding no shortage of pleas to join this or that development. But Van Aken District appealed to him for a number of reasons, he says, not the least of which is the setting.
"Even though this is new development, the fact that it's small, dense and on the edge of a great historic neighborhood with public transportation appealed to us," he explains. "Clearly the Ratners know a lot about real estate and developing, but there are lots of people who can make that claim. The fact that they're doing a project close to where the family lives, and the fact that they're taking so much pride in it, it's clear that this is a long-term project — and we make all of our decisions based on the long term."
Given the number of people living and working in Shaker and the surrounding communities of Cleveland Heights, South Euclid, University Heights, Beachwood and others, it's safe to say that there are plenty of diners eagerly looking forward to October when the eateries begin serving.