Northeast Ohioans can expect Fourth of July travel to be congested, hot and less cheap than in years past. Yet, more than 39 million people are expected to take to the roads nationwide starting today, including 2 million from Ohio, AAA
reports.
"This Independence Day will be one for the record books, as more Americans take to the nation's roads, skies, rails and waterways than ever before," said AAA Travel and Publishing's Bill Sutherland in a
statement
, commenting on travel numbers that have increased by 5 percent since last year and are the highest in 18 years of collecting data.
So when's the best time to travel in and around Cleveland? The folks over at Google analytics have put together a
handy interactive map
, which used traffic data from 2017 to calculate when to expect the heaviest road congestion.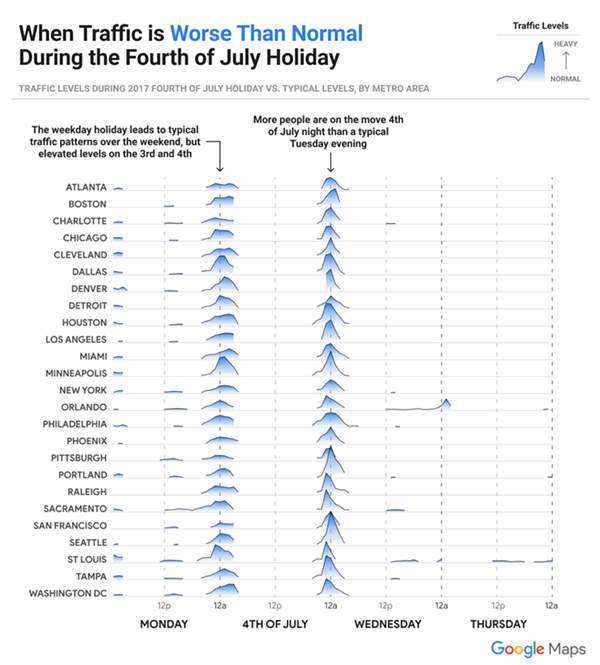 According to the data, 3 p.m. on July 4 is the worst time to be on the road, while 5 a.m. is best (naturally then you'll have to be up at 5 a.m.). Traffic starting this afternoon, won't be a cakewalk either, as folks are trying to beat the rush. However, Cleveland's traffic woes won't be anything compared to that of Los Angeles, New York and Washington D.C., Google shows.
Of course, with congested travel come the highest gas prices since 2014.
While the cheapest gas prices are currently at about $2.50 in the
Cleveland
area, gas costs have steadily risen all year, according to a GasBuddy
analysis,
and that number has the potential to rise through the weekend, putting a dent in your wallet.
On top of traffic and gas prices, expect humidity, highs in the 80s and potential thunder storms to hit Northeast Ohio, the National Weather Service
reports
.
So no matter where you're headed for this mid-week holiday. Be sure to leave early, expect delays and remember what you're
legally allowed
to light off in honor of America's independence.