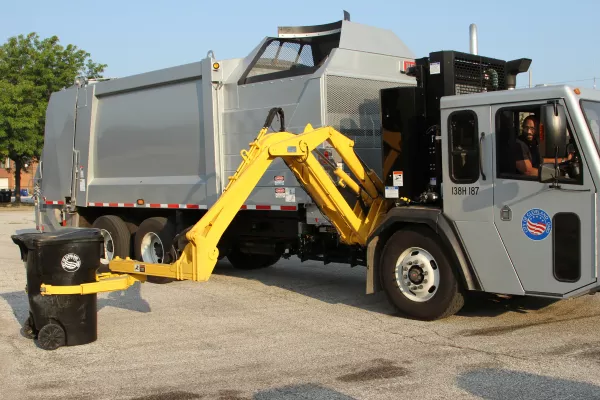 The city of Cleveland will resume issuing $100 fines this week for failure to comply with curbside recycling protocol. For the past couple of months, the city has been issuing "courtesy citations" for people with violations.
Scene's cover story this week
, timed with the city's renewed enforcement, is about the recycling landscape and various efforts by locals and local organizations to be more responsible consumers. Feel free to check it out.
And if you take out the trash and the recycling every week, make sure you remember these three big rules, which will spare you the headache of a $100 fine.
1)
Keep your waste INSIDE the carts
. Fines will be issued if items are not fully contained in the black waste or blue recycling roll carts. The lid should be fully closed.
2)
Don't set out bulk items unless it's a bulk pick-up week
: Bulk pick-up is the first full week of every month on your regular pickup day. In addition to the black and blue carts, residents may set out up to four tires (without rims) and up to three large items for bulk pick-up, (things like appliances, tables, chairs, mattresses, couches, etc.). Residents must wrap cloth furniture such as mattresses and box springs in plastic. Boxes and bags are not considered bulk items. Fines will be issued if bulk items are set out on non bulk weeks.
3)
Don't set out your carts too early or take them back too late
: Fines will be issued if carts are set out earlier than noon the day before regular pick-up. (For example, if your waste pick-up day is Wednesday, do not set your carts out before noon on Tuesday); or if carts are not removed from the tree lawn after noon the day following regular pick-up. (If your waste collection day is on Wednesday, plan to remove carts by noon on Thursday).
Bear in mind that the city permits up to 20 bags of yard waste — grass clippings and leaves, mostly — which may be set out for collection each week separate from the city-issued carts. You won't be fined for that. Branches and wood must be cut, set out in three-foot bundles and should be no heavier than 40 pounds.
As for recycling, the
Cuyahoga County Solid Waste District
stresses that there are really only five things that residents should be recycling in their homes:
-Cans
-Cartons (juice or milk)
-Glass bottles
-Paper and (non-contaminated) cardboard boxes
-Plastic bottles and jugs.
Almost every other item — Solo Cups, styrofoam containers, plastic utensils, durable plastic (like hangers or toys), and plastic clamshells — cannot be recycled locally and should be thrown in the trash. That's why the Waste District is encouraging residents to limit their use of single-use plastics.