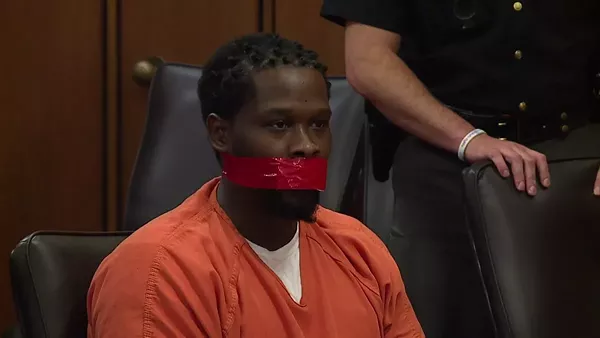 Cuyahoga County Judge John Russo drew some national attention this week thanks to the picture above. That's a defendant named Franklyn Williams with his mouth taped shut, which was done so at the order of Judge Russo.
Williams, 32, was accused of three armed robberies in Richmond Heights and Euclid. Throughout his sentencing hearing, Williams would not stop talking. Russo warned him more than a dozen times over a course of about a half hour, according to Fox 8's video footage. In order to combat the chatty defendant, Russo ordered to have his mouth taped shut by six deputies.
After red tape was applied across his face, Williams continued to attempt to speak, and the judge instructed more pieces of tape to be put over his mouth in order for the proceedings to continue.
Fed up with his continued pleading, Judge Russo angrily stated, "Mr. Williams, I'm the judge of the matter, shut your mouth, and I'll tell you when you can talk!"
"You tryna take my life, and you not letting me tell you what's going on," Williams clapped back in rebuttal.
After Russo ordered the tape to be placed on his mouth, a deputy can be heard saying, "If you spit on, attempt to bite or injure any of my deputies, you're going to have a bad day."
"Just put the tape on me man and get it over with," Williams said.
As Williams was in contempt of court, Russo was well within his legal rights to order Williams to be gagged in the courtroom.
Judge Russo
defended the decision
to Fox 8. "Everybody has the right to go on the record with my court reporter. But we can't do it at the same time or yelling over each other. My intent was never to silence Mr. Williams," said Judge Russo.
Williams was later sentenced to 24 years in prison on counts of aggravated robbery, kidnapping, theft, misuse of credit cards and having weapons under a disability.