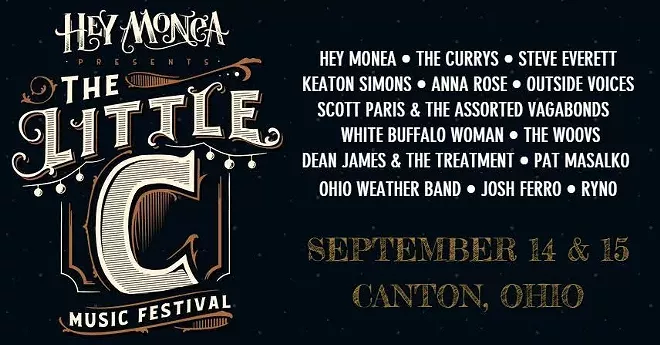 Earlier today, the Canton-based indie rock band Hey Monea, winner of the 2012 Hard Rock Battle of the Bands, announced it will again host the annual Little C Music Festival in Canton on Sept. 14 and 15 at the Auricle.
Now in its third year, the festival will feature both national and local acts, including Keaton Simons, Anna Rose and the Currys, Pat Masalko, Ohio Weather Band and Scott Paris & the Assorted Vagabonds. For this year's event, organizers have partnered with the Downtown Canton Flea, ComicCon and Canton's Restaurant Week.
"There's no better home for a street festival than Canton Ohio," says Hey Monea frontman Daniel Monea a press release. "We've curated a feast for your ears, with both regional and national talent, framed beautifully by the backdrop of downtown Canton. With an exciting food scene showcased by restaurant week, Canton flea, and Comic Con rounding out an already stellar weekend of music, our beloved Canton is a can't miss destination this September."
"Canton has become an exciting entertainment destination during Little C, fueled by our strategic partnerships with the Canton Flea, ComicCon, and Restaurant Week… and the magic of Little C is its loose energy," says event producer Jason Spiewak. "Anything can happen, both onstage and off, and it usually does!"
Festival passes
are $20, and individual Friday and Saturday passes are $10. VIP passes cost $60.