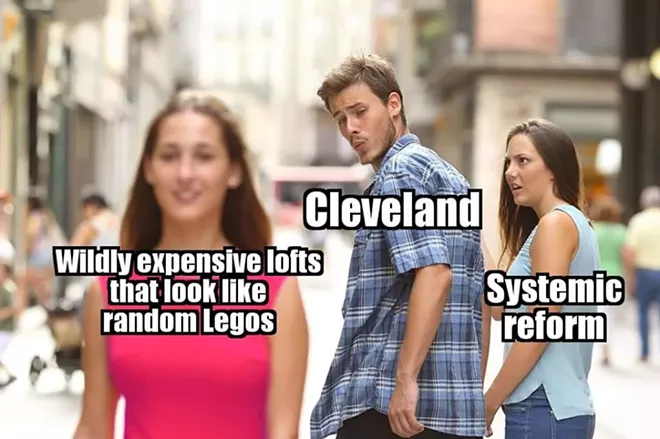 As development continues at a rapid pace in some parts of the city, the cost of living is making a leap while wages sit at a stand still. Meaning, we're now paying more for rent without having the income to supplement the difference in cost.
According to a monthly report from
Rent Cafe
, average rent costs in Cleveland have jumped 0.4 percent compared to last month, and have jumped 2.7 percent compared to last year.
The biggest jumps came from two bedroom apartments, which hopped 3.9 percent overall compared to last year, in addition to the traditionally most cost effective option for living, studio apartments, that increased 3.7 percent.
A two-bedroom apartment in Cleveland now has an average cost of $1,177 per month, a dollar amount that most Ohio jobs
don't pay enough
to cover. In 2016, 48 percent of Cleveland renters
were cost burdened
, and this number is only going to continue to grow if housing doesn't become more affordable.
What's also concerning is that Cleveland has
the highest rental costs
compared to every other major metropolitan city in the state, including Columbus which boasts a much larger population.
Cleveland is still trying to claw it's way out from
the housing crisis
, but the construction for new housing opportunities are overwhelmingly geared toward
luxury living
. These new city developments are targeting new professionals moving to the area, but Cleveland residents are
still struggling
to find affordable housing.
This upswing in housing costs isn't only impacting those that rent. Last week concluded the
sexennial reappraisal
of homes in Cuyahoga County, which revealed residential values increased by 10.8 percent countywide, and commercial values increased by 8.7 percent.
County Executive Armond Budish said in a press release about the increased values, "I am pleased that overall our property values have significantly increased. It's a sign that our county is prospering."
Unfortunately, many of these homes were appraised for a lot more than their worth. Many homes saw property values go up 100, 200 or even 400%.
A positive takeaway is that Cleveland's increase in rent costs was still
below the national average
, so we're not quite as screwed as other parts of the country (like Tampa, FL that saw an increase in rent costs by a whopping 6 percent).
However, with an Ohio minimum wage of $8.10 per hour, employees are only able to take away $1,296 per month before taxes, and a two-bedroom apartment costs $1,035 monthly. It's impossible to afford a two-bedroom apartment while working minimum wage.
Diane Yentel, president and CEO of the National Low Income Housing Coalition, said in a press release that low wage workers often have to choose between paying for rent, health care, childcare, and other basic necessities.
"The administration's cruel and shortsighted proposals to cut housing benefits would add to the struggles of millions. Rather than threatening the housing stability of families struggling to keep roofs over their heads, Congress must invest in expanding housing solutions that provide stable homes for the lowest income people in our country," she said.
A report from the National Low Income Housing Coalition reveals that
41 percent of Cuyahoga County residents
are renters, and Cleveland currently boasts
12 evictions
every day. As rent increases, the eviction numbers are likely to increase as well.
Cleveland residents are finding ways to combat eviction, as the percentage of adults living with other adults as roommates is higher than ever before. According to a report from
Zillow
, 30 percent of working-age adults—aged 23 to 65—live in doubled-up households, up from a low of 21 percent in 2005 and 23 percent in 1990, and more than half (54 percent) of young adults aged 23-29 live in doubled-up households, with either roommates or family members.
It's easy to dismiss this trend as unemployed people living at home with their parents, but the likelihood of doubling up has increased at the same rate among employed and unemployed adults since 2005, regardless of age.
By Zillow's prediction (and one we agree with) it's that young people are
especially likely to be underemployed. Despite a generation having higher education levels than ever before, many twenty-somethings work in
low-wage jobs
, making it impossible to afford the escalating rents on their own.
According to the National Low Income Housing Coalition, there's only
41 available and affordable rental properties
for every 100 renters. The sad thing? We're actually on the higher end of availability in the country, and we're still unable to assist more than half of the rental community.