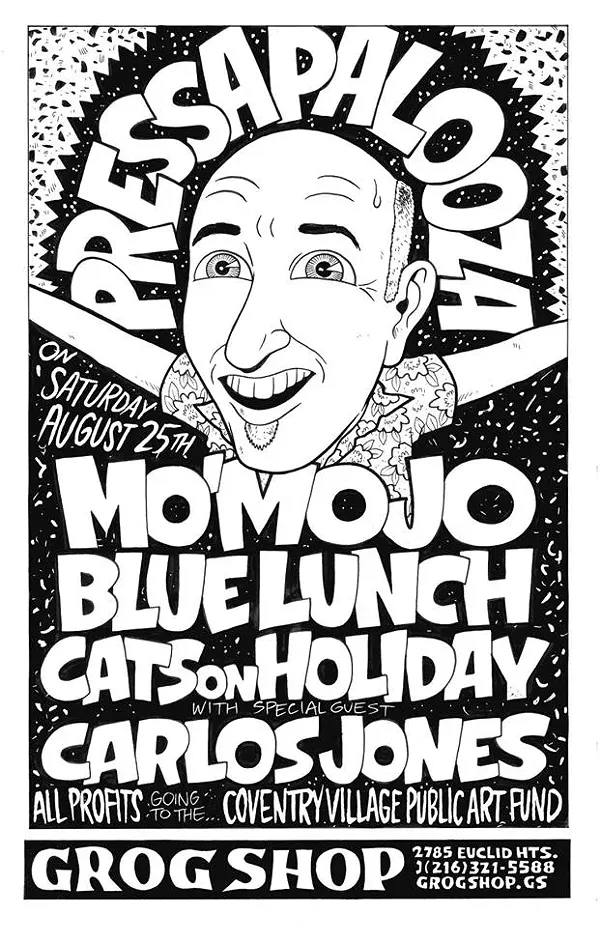 A founding member of Heights Arts, Big Fun owner Steve Presser regularly works with Future Heights and Reaching Heights to better Coventry Village, the neighborhood where his toy store was located for 27 years.
Now, Presser has announced he'll host Pressapalooza, a benefit concert for the Coventry Public Art Fund, on Aug. 25 at the
Grog Shop
. The show starts at 8:30 that night, and a portion of the $10 in advance/$15 day of show ticket will go to benefit the Coventry Village Public Art fund. The local acts Mo' Mojo, Cats on Holiday and Blue Lunch with Carlos Jones will perform.
"I love Coventry and I love art. Coventry will always be my home," Presser says in a press release announcing the event. "That's one of the reasons that with the help of the Coventry Village Special Improvement District [CVSID], a Public Art Fund was established with money earmarked for public art works in the Coventry Village District. We have always come up with creative art ideas. We started years ago, with a collaboration between Heights Arts and CVSID where we installed the Coventry Peace Arch sculpture in Peace Park by the Coventry Library."
Since then, the art fund has contributed to the tie-dye street signs for Hampshire and Lancashire Roads and benches placed along Coventry designed by Raymond Bugelski as well as 59 ornamental planters created by Brinsley Tyrell. Presser wants to leave behind a legacy for Coventry Village despite Big Fun's move.
"[A percent] of proceeds from the Big Fun T-shirt sales was donated to make a $2500 contribution to the CVPAF in addition to a generous donation by Kirk Montlack," says Presser. "It is important to continue to enhance the existing beauty of Coventry Village and I think public art is a wonderful way to do it. I hope that the next project will be a huge mural in Coventry Village. This night of music with Cats on Holiday, Mo' Mojo, Blue Lunch and Carlos Jones, would have been exactly the 3 bands that I would have wanted! All three bands have played in our backyard at house concerts. All three bands are my favorites and are friends as well. Adding Carlos Jones just takes it to another level. Each band is comprised of incredible musicians. Each has some tie in some way to Coventry. It will be an evening of indigenous Coventry Music. I am humbled and honored by Pressapalooza. We all will have a good time and hopefully, raise some serious money for CVPAF!"