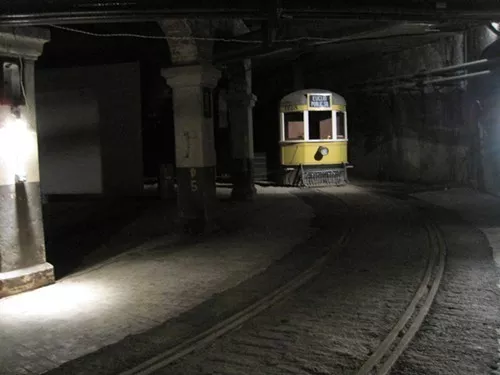 The Cuyahoga County's
Public Works Department
department is once again hosting its one-day-a-year public tour of the Veteran's Memorial Bridge and Subway station. This Saturday, tour participants get to venture underneath the 3112-foot bridge to one of Cleveland's eeriest locales.
You already know about the Veterans Memorial Bridge's upper motorway, but the lower deck (read: dark, abandoned tunnel), which hasn't been of much use to anyone since 1954 when streetcars were discontinued, is the main attraction. The self-guided tour begins at 2433 Superior Viaduct, the bridge's official entrance.
The event is free, and goes from 10 a.m. to 6 p.m. No reservations are required, but all participants will need to sign a release form before the tour. Save time and fill that our right
here.
Also be sure to bring a flashlight and sturdy shoes.
Do note that parking is extremely limited/non-existant near the viaduct entrance, thanks to construction in Ohio City. Plan accordingly and use public transportation.
Check out photos of the long-closed underground space, built 100 years ago,
here.