Wikimedia Commons
We're all doomed, and it's up to a sixth grader hoping to make the honor roll to determine if we're worthy of survival.
Sixth graders at Roberts Middle School in Cuyahoga Falls are starting off the new school-year with a bang, assigning children the responsibility of determining who deserves to survive the end of the world based on factors like race, religion, age, occupation and sexual orientation. It's like a combination of
12 Angry Men
and the horror film
Circle,
only for children's academic success.
A concerned Cuyahoga Falls councilmember Adam Miller (Ward 6) brought it to public consciousness during a meeting on Wednesday. Then a copy of the assignment was provided to
Cleveland 19
, and it's a proverbial trash fire of racism, classism, homophobia, sexism, ageism, ableism and every other disgusting -ism you could imagine.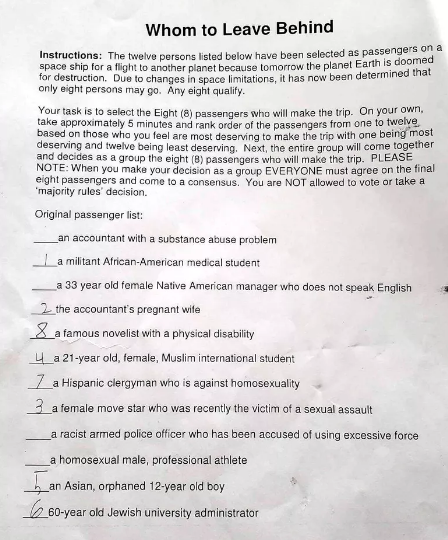 In order to teach children how to play God, and how to place value on human life as if they were the Jigsaw Killer in
Saw
, they were all told to save eight passengers of the possible 12.
The parent who provided a copy of the assignment to Channel 19 left their child's "rankings," on the paper, which is horrifying considering their kid decided that a professional athlete who happens to be gay and a Native American woman who cannot speak English are not worthy of surviving, putting them on the same level of "unworthiness" as a racist armed police officer accused of using excessive force and an accountant with a substance abuse problem. Joy.
Roberts Middle School declined to comment to Cleveland 19, and the Cuyahoga Falls School District has also been contacted seeking comment.