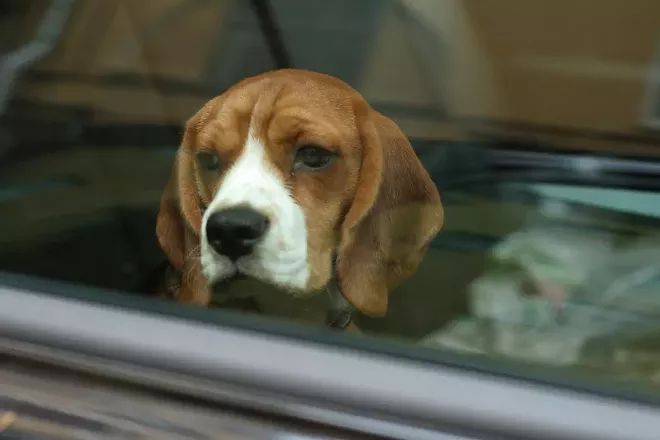 Labor Day weekend in Cleveland might as well be
Fourth of July 2.0
for our furry friends, with high-flying, death-defying aerial acts from the Cleveland National Air Show ripping through the sky and causing a whole lot of noise. The U.S. Navy Blue Angels are set to deliver an impressive performance out of Burke Airport as usual, but the soaring engines are just as terrifying as fireworks for our pets.
Dogs have been known to pace, pant, shiver, hide and jam themselves behind furniture when they're scared of loud noises. In
severe cases
, they'll claw through walls, chew carpets, or break through screen doors from their escalating panic. To prevent your dog from experiencing three days of absolute Hell, there are steps that can be taken to ensure this Labor Day weekend is a success for you and your pup.
Update your dog's tags

First things first, during a potentially frightening experience, dogs are at a higher risk of escaping in fear and becoming extremely disoriented because of it. July 5 is often cited as one of the busiest days for animal shelters due to the high number of dogs that run away due to the fireworks. If your dog has proper identification, it can assist the shelters or other people who may find your scared dog return them to you. Having recent photos of your dog is also helpful in identifying your dog in case their collar comes off at any point.
Give your dog plenty of exercise in the morning
The major fear for dogs with something like fireworks is stemmed with the sounds paired with the visuals. While desensitizing your dog to things like YouTube videos of fireworks displays may be helpful, the air show may only be audible depending on where you live, and the sounds will be unpredictable and difficult for dogs to identify. Give your pupper plenty of exercise in the morning so they can spend the time of the air show indoors and away from where the sound will be too loud and scary.
Distract your dog with treats
Dealing with loud, unpredictable, terrifying sounds can be a traumatic experience for your dog, and they are going to desperately be in need of comfort. Toys that require full attention (like food stuffed inside of chew toys) will help keep your pet distracted, or at least put them at ease between the loud soars of engines. Some dogs will possibly be too scared to eat or play, but trying to give them positive reinforcement during scared moments can help them associate the sound of the air show with getting toys or treats, alleviating some of the fear.
Leave the TV on or play music

It's not likely that you'll be spending all of Labor Day weekend cooped up in your house with your dog, but leaving them alone in a quiet home while jets screech through the skies will increase their anxiety. The TV or music playing will at least alleviate some of the nervousness by offering a sound distraction so the air show won't blast them out of nowhere.
Offer a safe space

If there's a room in your house that's more soundproof than others, perhaps consider moving your dog's toys, bed, or other items into that area for the weekend. Anything to muffle the sounds of the skies will be beneficial for your dog, and cause less of a headache for you trying to take care of them.
Invest in a Thundershirt
A lot of dog owners swear by the Thundershirt compression vests for dogs, and the constant gentle pressure seems to soothe many dogs from sudden sounds like thunder, fireworks or air-flipping jet engines. Thundershirts are not a guarantee, but just as weighted blankets have been proven to work for humans, the weighted vest may offer relief for your dog similar to swaddling a baby.
Medication

If all else fails, Benadryl has
been approved
by many veterinarians for calming down dogs with mild to moderate sound anxiety. As always, you should consult with your dog's veterinarian before trying any type of medication to make sure it's acceptable and safe for your dog. If drugging up your dog with the same stuff that alleviates your seasonal allergies isn't your cup of tea, there are organic options like
Rescue Remedy
that contain flower based materials that can naturally reduce dog anxiety.