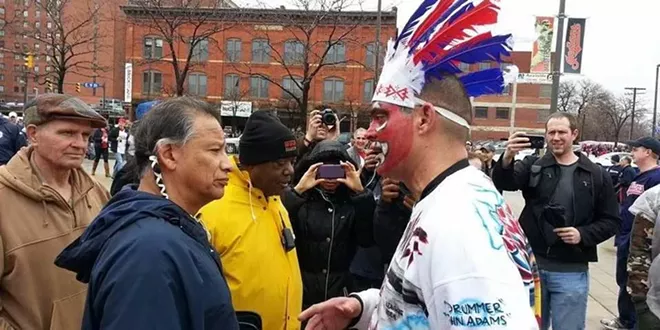 The story of Robert Roche is fascinating, and one that
Scene
's Sam Allard did an excellent job of documenting
in a story called
"Native Cleveland: Robert Roche and the Origins of American Indian Activism in Cleveland."
Most recognize him as the American Indian staring down a man wearing
Chief Wahoo
face paint outside of Progressive Field, but Roche is also a man who embezzled $77,000 in grants made by the Substance Abuse and Mental Health Services Administration (SAMHSA) to the American Indian Education Center, in Parma, where Roche served as executive director.
Roche
plead guilty last May
to the charges, and was sentenced with four months in prison followed by four months of home confinement, a lesser sentence than previously predicted, on Wednesday. A judge also ordered him to pay $77,000 in restitution, the amount he was accused of stealing.
Philip Yenyo, the executive director of the American Indian Movement of Ohio, told the court that Roche's actions deeply hurt the public's view of Native American activists. Yenyo is also a prominent anti-Wahoo activist whom Roche tried to sue in a separate lawsuit in 2016 (it was later dropped). He told the judge that the American Indian community is just as much a victim as the federal government.
"We're all seen as the same now. That we're money grubbing," Yenyo said.
Still, Cleveland.com reported that Roche's statement to the court on Wednesday focusing more about the good he has done for American Indians in Ohio rather than his criminal activity.