The Cleveland chapter of the Democratic Socialists of America (DSA) are holding their first ever Brake Light Clinic, offering free brake light repairs to assist community members in avoiding unnecessary interactions with police by repairing the broken headlights and taillights of attendees for free.
With nearly 50,000 members and counting, DSA is America's largest socialist organization, a unified coalition of local chapters working vigorously towards creating a more fair and equitable society for all through community activism and political pressure.
Originated by the New Orleans chapter of the DSA, free brake light repair events have been staged by chapters across the country
to great success
. This is the first clinic in the Cleveland area of its kind. The goal is to strengthen community safety and welfare, and to help attendees avoid unnecessary interaction with a legal system which the DSA believes is disproportionately punitive towards the poor and communities of color.
"Broken brake lights are routinely used by police as a reason to pull over drivers, particularly Black and Brown folks," DSA Steering Committee member at large and racial justice committee chair (and
meme queen
) Jeanne Li tells
Scene
. "This not only allows police to search cars without cause, but endangers live, and contributes directly to the prison pipeline."
Cleveland's chapter of the DSA is now in its third year of existence, and despite being a younger chapter has already helped to build working class power in Cleveland through initiatives such as
its collaboration
with Clevelanders for Public Transit, which successfully lobbied against a 2018 fare hike for Cleveland's
underserved RTA system
, and the election of one of their members, Tristan Rader, to the Lakewood City Council.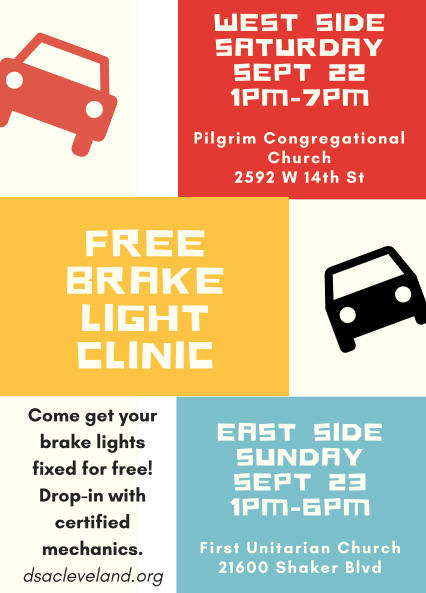 Courtesy of DSA Cleveland
The DSA is also striving to improve police accountability and says the service could be especially potent in Cleveland, where they say "A number of disturbing incidents involving the Cleveland Department of Police in the last several years have heightened public awareness of some abusive policies and practices within the department."
DSA Cleveland has stockpiled a sizable number of the most common light bulbs and will be replacing them free of charge. The repairs will be done under supervision of licensed mechanics and all community members are welcome to drop in at any time during the clinic for repairs. According to Li, DSA Cleveland hopes to continue these clinics every month, alternating venues between the west side and the east side.
West Side Clinic: Saturday Sept. 22 at Pilgrim Congregational Church (2592 W 14th St.) from 1 to 7 p.m.
East Side Clinic: Sunday Sept. 23 at First Unitarian Church of Cleveland, (21600 Shaker Blvd. Shaker Heights) from 1 to 6 p.m.
For more information about the DSA Cleveland chapter, visit their website
here
.