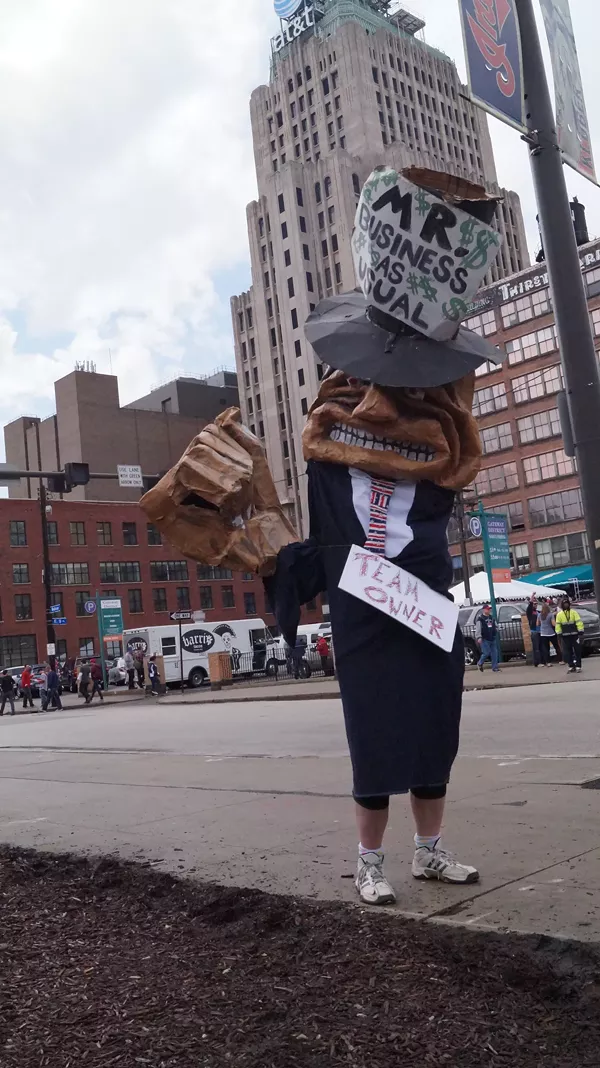 Sam Allard / Scene
"Mr. Business as Usual," a CAST puppet outside Progressive Field at the Cleveland Indians' home opener.
The organization
Policy Matters Ohio
released a report today analyzing the pay gap between company CEOs and their typical employees. After collecting data covering 44 of Ohio's 100 largest employers, the report found that all but five of the 44 CEOs make at least 100 times what their typical worker earns, but in many cases, CEOs at these companies earn more than 200 times what the average worker makes a year.
"Executive pay skyrocketed while worker pay barely budged," said Zach Schiller, research director of Policy Matters Ohio and co-author of the report.
At worst, Abercrombie & Fitch CEO Fran Horowitz's $10.3 million salary is 3,431 times as much as the median Abercrombie employee pay of $2,991. The report
does
recognize that a majority of Abercrombie employees are part-time, which accounts for the massive skewing of numbers. The smallest gap is with Cincinnati Bell CEO, Leigh Fox, who makes $2.7 million per year, or 32 times the median worker pay of $86,362.
In terms of the
big noises in Cleveland
: KeyBank CEO Beth E. Mooney takes home $8,146,470 per year, 118 times more than the $68,875 earned by the typical worker. Tricia Griffith, the CEO of the Progressive Corporation, earns 136 times more a year, with over $9.2 million, than the average employee's $68,304. Sherwin-Williams' CEO, John G. Morikis, makes over $13.5 million a year, or 323 times the average employee salary of $41,827.
Policy Matters Ohio reviewed the filings of companies that rank among the top 100 Ohio employers, according to the
Ohio Development Services Agency
. Forty-four have filed the reports required for the first time this year by the U.S. Securities & Exchange Commission of publicly traded companies, but a majority of the top 100 employers do not have to file such reports either because they are nonprofits (like the Cleveland Clinic), government employers (Wright-Patterson Air Force Base), privately owned (Giant Eagle) or foreign companies (Honda).
A few others, such as Procter & Gamble and Cardinal Health, have yet to report due to a different start time of their fiscal years. Policy Matters Ohio expects to see the ratios of these companies disclosed before the end of this calendar year.