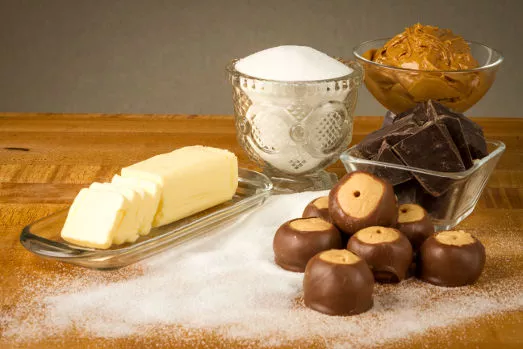 Courtesy of Campbell's Sweets
In what is arguably Ohio's greatest culinary contribution, the peanut butter Buckeye now has
an official candy trail
of 31 sweet shops stretching from Cincinnati to Cleveland.
The Butler County Visitors Bureau unleashed a 12-stop official
Ohio Donut Trail
back in 2015, but now, just two counties north, the Miami County Visitors & Convention Bureau has unveiled the statewide trek of the best places serving up Buckeye candies.
Miami County's candy trail starts with a lone Cincinnati destination before working its way north through Dayton all the way up past Bowling Green. From there, about a half-dozen stops are tightly packed in the "land of the Buckeyes," Columbus, before splitting off toward Cambridge up through Walnut Creek. From there, it's over to Ashland, back toward Canton, and over toward Youngstown before wrapping things up with a few final stops along the lake including, obviously, Cleveland.
Malley's Chocolates' Lakewood location earns a spot on the list for their family' special-recipe milk and dark chocolate having survived three generations, as well as Campbell's Sweets Factory in Cleveland, celebrating more than four decades of candy-making excellence.
Buckeye candies are a staple for Ohioans with the not-fully chocolate covered peanut butter balls resembling the Buckeye nut of the state tree and the symbol of Ohio State University. While nut-allergy sufferers will never have the privilege of tasting the delectable candy treat, everyone should avoid eating
actual
Buckeye nuts as they are mildly toxic if ingested.