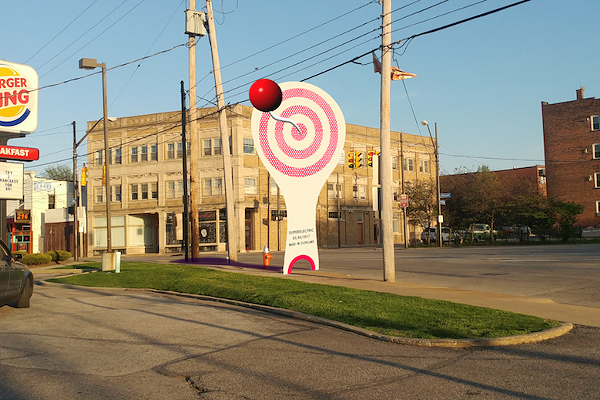 Gordon Square Arts District Media Release
Gordon Square Art District's giant new steel
paddle ball statue
could be installed at Detroit and 75th Street as early as Friday, co-artist and Superelectric Pinball Parlor co-owner David Spasic told
Scene
. And in celebration of the fresh, 14-foot-tall public artwork, the folks at Superelectric (including fellow artists Ben Haehn, Nathaniel Murray) and the Detroit Shoreway neighborhood have collaborated on a potential world record-making event.
Next Saturday, at least 500 people are needed to try and break the Guinness World Record for most controlled paddle balls used at the same time, a feat which includes piles of paperwork, plenty of volunteer counters and videographers needed to prove the event's legitimacy.
The current record is
443 people, achieved by a couple of South Carolina schools in 2012.
Spasic says you don't have to be really great at paddle ball, just show up and do your best.
"Paddle balling takes practice," he says. "Staring with a shorter string is key. As you get good, you'll add more length."
The event runs from 10 a.m. to 1 p.m. and is free for all participants, including a free paddle ball made to look like the statue. With the possibility of hundreds of people participating, organizers are fencing off a section of the streets around the statue, also using the Burger King parking lot to attempt to break the paddle ball record.
On a first-come-first-serve basis, parking will be available down the road at 78th St. Studios and Our Lady of Mount Carmel Church, but using public transportation or biking are always best.
Find out more about the event right
here.