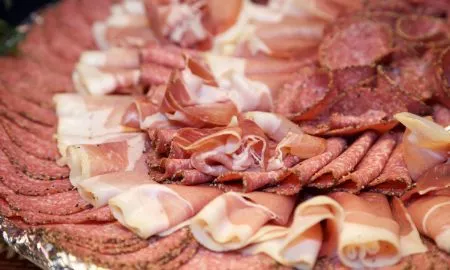 Just about 70 miles south of Cleveland, a deli employee at the Lawrence Township Giant Eagle grocery store has allegedly been stealing slices of cold-cuts during every shift for the last 8 years. The meat thief was uncovered after the Giant Eagle's loss prevention manager received a tip about the deli worker's addiction, claiming she snuck three to five slices of ham a day.
The Tuscarawas County Sheriff's Department's
Facebook page noted
that the employee was charged last Friday with stealing food worth an estimated $9,200. A few slices of deli ham each day and a few samples of salami surely added up, and police were forced to get involved.
What's most concerning, however, is that $9,200 of ham is a preposterous amount of pig meat. Giant Eagle's website features a variety of ham products, but the
most expensive ham
offered is $9.99 per pound. For the sake of argument, let's believe that this worker was helping herself to the boujee meats, and consuming the good stuff.
This would mean she needed to eat 920.9 pounds of sliced ham over the course of 8 years, meaning, she'd need to eat roughly a third of a pound a day, every day for 8 years. Not a lot of information about the employee in question is available, but we do know that the worker is reportedly 28. Meaning, almost a third of this employee's life has been spent on this ham heist.
On top of that, the claim she only ate three to five slices seems amiss given that pre-sliced ham is roughly 1/2 ounce per slice. This employee was likely consuming more like 10-11 slices of ham per day, if we're to believe she really did rack up a bill of $9,200.
Tuscarawas County officers did take a report on the situation as requested by the store, but despite what many news outlets are reporting, there have been no formal files charged against the employee. The report will be sent to the Prosecutor's Office who will make the final decision on the charges.
"While my office does not have the authority to make the final decision in this case, I do feel confident that once all of the facts are relayed to the Prosecutor, Felony charges are unlikely," the Facebook post said.