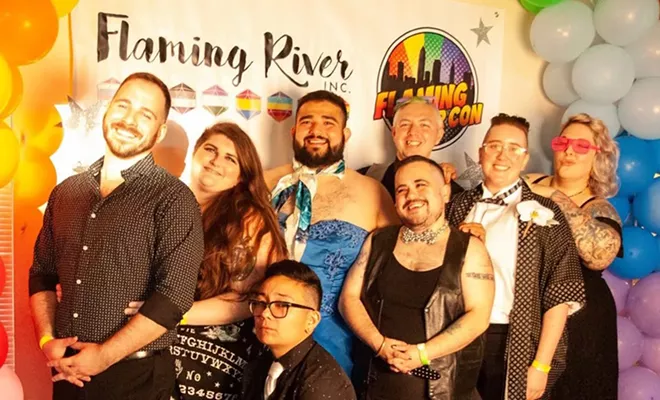 Courtesy of Flaming River Con
A group photo from the Queer Prom Fundraiser for Flaming River Con
Brittney Orcutt founded
Flaming River Arts
in 2017 to "foster, showcase and celebrate LGBTQIA+ voices and the community, and combat bigotry by increasing the visibility of queer and marginalized persons within geek culture." Providing Cleveland queer-friendly events like dance parties, prom, trivia, cosplay contests, photos with Santa and even bake-offs, Orcutt and her team are prepping to bring to life Flaming River Con, the first queer geek convention in the Midwest.
Flaming River Con's guiding principles are to promote literacy in the community and create a more diverse and inclusive environment for marginalized groups within the queer community. Queer culture is prominent throughout art, film, music, writing, podcasts, comics and performance, and Flaming River Con aims to shine a light on the many ways queer creators have shaped pop culture.
Unfortunately, the queer community is still not fully accepted in major spaces, including convention settings, so Flaming River Con hopes to serve as a safe space for youth, families, and other underrepresented
folx
.
The inaugural event is set to feature panel discussions on everything from comic books, horror movies, Afrofuturism, NASA, Drag Queen Storytime, LGBTQ+ literature, Pokemon and role-playing games. The full panel schedule can be seen below:
Sanctuary
11 a.m.-11:45 a.m. — Sina Grace: Marvel's Iceman
11:45 a.m.-12:15 p.m.— Comics Past and Present with Sina Grace and Sam Maronie
12:30 p.m.-1:30 p.m. — Fear the Queers with BJ Colangelo
1:45 p.m.-2:45 p.m.—NASA Presentation with Debbie Goodenow
3 p.m.-4 p.m.—Afrofuturism with Panel Discussion
4:15 p.m.-5:15 p.m.—History of Queer Comix with Valentino Zullo
5:30 p.m.—Cosplay Contest
Chapel
10:30 a.m.-11 a.m. —Drag Queen Story Time with Sascha Macias
11:30am-12:15pm—Comic Psychology 102: Character Development with Dr. Cyrano Patton, PhD
12:30 p.m.-1:15 p.m.—Comics 4 Change with Dr. Ken Schneck, PhD
1:30 p.m.-2:15 p.m.—The Best Of LGBTQ Lit with Panel Discussion
2:30 p.m.-3:15 p.m.—Digital Queer Teens with Matt Rolf
3:30 p.m.-4:15 p.m.—The Science of Pokemon: Present: Poke'nomics with Professor Matt Collins
4:30 p.m.-5:15 p.m.—RPGs and Gender Exploration with Panel Discussion
5:30 p.m.-5:50 p.m.—A Reading with Britney Brinson
Handleabra Game Room
Noon-1 p.m.—DnD 101 with Frank Tadeschi
1:15 p.m.-2 p.m.—Obelisk Demo with EH Games
2:15 p.m.-3:45 p.m.—Growling Doors Games
4 p.m.-4:45 p.m.—Obelisk Demo with EH games
5 p.m.-6 p.m.—Alestone Demo with Frank Tadeshi
Full Disclosure: I am participating in Flaming River Con as a panel host discussing LGBTQ+ representation in horror films and television. For additional coverage on Flaming River Con, check out Nikki Delamotte's awesome interview for Cleveland.com.
Flaming River Con takes place 10 a.m.-6 p.m., Saturday, Sept. 22, at West Shore Universalist Unitarian Church, 20401 Hilliard Blvd. in Rocky River. The convention is free and open to the public with a $5 suggested donation. This is an all ages event and is a disability accessible venue (no stairs, everything on one floor, and seating for panels).