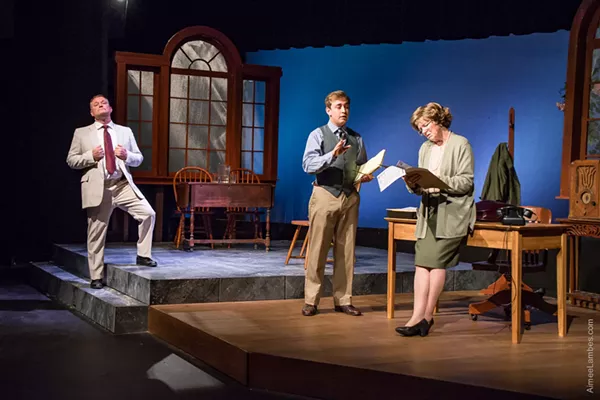 Perhaps our country will be saved by bunnies.
A few months ago, John Oliver on his HBO show "Last Week Tonight" brought out an adorable children's book that promoted good things such as love and acceptance. It was titled "A Day in the Life of Marlon Bundo," and was a send-up of another bunny book, "A Day in the Life of the Vice President," written by Mike Pence's daughter Charlotte.
In that first book the real-life pet of the Pence family, Marlon Bundo, is the star as he follows daddy Pence around the White House. In the second book, Marlon is re-imagined as a gay bunny that falls for the dashing bunny-stud Wesley. This jab at VP Pence's anti-LGBTQ stances has been very successful, outselling the original Bundo book by miles.
But these weren't the first bunnies to be involved in political dust-ups. Back in 1958, illustrator Garth Williams wrote "The Rabbits' Wedding," a charming little kids' tome about a love affair and marriage of a black male bunny and a white female bunny. Within a year, it became a huge point of controversy with Alabama State Senator Edward Eddins claiming the book was promoting interracial relations.
And that brings us to the current play at Ensemble Theatre, Alabama Story, in which playwright Kenneth Jones relates the real-life controversy through the eyes of chief librarian for the State, Emily Reed. In this telling, Reed locks horns with a Senator Higgins, while a secondary story involving a young white woman, Lily, and her black pal Josh from years ago plays out simultaneously.
In all, this is an admirable and well-intentioned effort. But the script by Jones, while sweet and compassionate, is often far too instructive and didactic. It also gets tangled up in unnecessary factoids about Reed's life and career, unable to shake off the urge to share all the jots and tittles of his Wikipedia research.
This problem is not helped by the production, under the direction of Tyler Whidden, that can't decide what acting style is appropriate. As Reed, Anne McEvoy gives a solid and sensible portrayal of a woman fighting for literary freedom. And she is nicely matched by Cody Kilpatrick Steele who plays her faithful assistant Thomas Franklin.
Things go downhill from there. The side story of Lily and Josh is meant to provide a human face to the issues of integration and intermarriage. But Adrienne Jones and Eugene Sumlin never crack the code on this section of the play, floundering in a haze of interpersonal discomfort that doesn't feel intentional.
But there are other characters that fare even worse under Whidden's lax supervision. As the Senator, here renamed Higgins, the fine actor Joseph Milan portrays the southern lawmaker as a cross between Gov. George Wallace and Foghorn Leghorn. It is a burlesque interpretation that doesn't match the other performances in style.
The most egregious overacting is turned in by Craig Joseph, who plays the author/illustrator Williams in addition to other characters. For some reason, director Whidden allows Joseph to turn what should be a sly, rueful speech by Williams into a fulsome, spittle-spewing rant. And some of his other small characters—an overly crippled State representative, in particular—are too showy to merge easily with the others.
So it would be a good idea to vote for library tax levies and to read "The Rabbits' Wedding" to your little ones (it's still in print), as well as the endearing "A Day in the Life of Marlon Bundo." But you may find "A Day in the Life of the Vice President" and this Ensemble Theatre production a tad less satisfying.
Alabama Story
Through September 30 at Ensemble Theatre, 2843 Washington Blvd., Cleveland Heights, 216-321-2930, ensembletheatrecle.org.