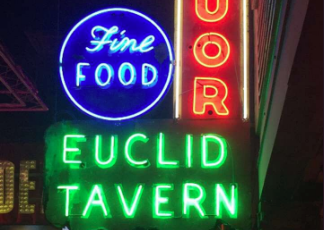 In the summer of 2017, the original 14-foot Euclid Tavern sign
appeared on Chicago Craigslist
. "This is THE ONE AND ONLY ORIGINAL Tavern sign when it opened in 1909," the post reads. "Taking offers, you will never find another one ever."
The Euclid Tavern did indeed open in 1909, but according to Cleveland Historical, it became a "prominent fixture" of University Circle only in the late 1970s and 1980s. It was a hot-spot for the alt-music scene and remains widely known for the concert posters of local artist Derek Hess.
When the "Euc" re-opened in 2014 with "Happy Dog at the Euclid Tavern" branding, the spot got a new version of the original sign. Since the purchase on Craigslist, little was known about the whereabouts of the original sign, until now.
Thanks to the handy detective work of some fine Twitter followers, Cleveland's
Andrew Rothman
brought to our attention this morning that the original Euclid Tavern sign is still alive, and is set up next to the main stage of country singer
Jason Aldean's bar
in Nashville.
Another follower, Alison Klika provided photographic evidence of the sign's new home, and after 109 years, she's still glowing brightly.