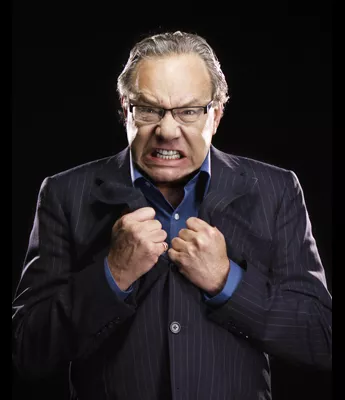 Courtesy of Cyberlaff, Inc.
Comedian
Lewis Black
regularly touches on topics such as current events, social media, politics and anything else that "exposes the hypocrisy and madness in the world," as he puts it.
Given the election of Donald Trump as president, Black's analysis of the "hypocrisy and madness in the world" seems all the more relevant. The comedian brings his Joke's on Us tour to the
Akron Civic Theatre
. The performance begins at 8 p.m. on Thursday, Oct. 4.
During a recent phone call, Black, who refers to his interviews as "pontificating," talks about the tour and his lengthy career.
Given the current political climate, the Joke's on Us is a particularly fitting title for your current tour.
It seems like you could continue to call it that until this four years [of Donald Trump's presidency] is over. I've never seen anything like this. I've made jokes about how if you think it's crazy now, just wait. But this went two steps beyond that. The problem is that whenever you talk about this, the difference from the very beginning has been between the way I look at him and the way that somebody in Ohio looks at him is that I spent 40 years when he lived maybe a mile and a half away from me. That's a big difference. You're still just getting to know him. I started making jokes about him from the moment I moved to town. Why? Because he was funny. I've done it for 40 years. I'm sick of it. I've run out. You might as well just go back and watch the old tapes of me.
The current White House administration seems to offer comedians plenty of fresh material on a daily basis. What's it like trying to keep up with it all?
I don't keep up with it anymore. I don't think it needs to be kept up with. I try to avoid saying his name. That's my contribution to life. His name is said all the time — more so than anyone who's ever been president. I don't mention his name because I feel like when I do mention his name, his ears perk up. I talk about things you can do on both sides for the people who love him and the people who don't love him. I try to think of solutions for your reaction when you wake up and turn on the TV. No matter what side you're on, the reaction is "we're all gonna die." I talk about how if they economy is so great, why we can't fix our roads or our infrastructure or our health care system or our Social Security or how to take care of the elderly, just for starters. The economy is so great that the average person can't deal with more than their daily lives. This group of assholes can't help but talk about how great the economy is. Both sides have done this for years, and both sides are reprehensible. Most of the people out there are lucky if they can make it until the end of the week if they don't have something traumatic occur like a broken axle because of a pothole or having to take a kid to the hospital or not having enough money to buy groceries.
Is there any hope that things will get better?
The hope I have is that most of the American people get it. They're just not given any choice. They're just not led properly or spoken to if they have any intelligence whatsoever. For all [Republicans and Democrats] don't like the Chinese and Russians, both sides [imitate those countries' governments] by just pumping the same message out over and over and over.
You recently participated in a panel discussion dubbed Comedy and the First Amendment: How Far is Too Far and Who Decides. What was that like?
It was great. [Comedian Lenny Bruce's daughter] Kitty Bruce gave the personal account of what it was like to see her father's rights taken away. The lawyer on the panel was exceptional. He defended Larry Flynt. It's online, and you should watch it just to see what he brings to the table. I was there to provide some humor for the proceedings; otherwise, it's really depressing.
Would you say that we still live in a democracy?
"Idiocracy" is a good description of it. People go into a voting booth, and there are two names there, Most of the time, there's no choice. You'd be better off touching yourself for 30 seconds.
There's so much voter suppression and gerrymandering too.
There is. I do stuff for the ACLU in terms of voter rights. Why would you suppress voting? It's just amazing. It's hard enough to get people to vote, and now, you're going to make it harder. Why would you come up with an obstacle? The gerrymandering goes way back. It's both sides and how the Supreme Court hasn't taken it on is beyond me.
If you're funniest when you're angry, you must be at your funniest at the moment.
I'm pretty good now. I came back big time. I am funniest when I'm angry. I was talking to Kathleen Madigan today about doing interviews. My interviews aren't as funny as my stage performances. When someone calls during the day and I've been through [Brett] Kavanough 6.7, it's like, "Really?" Plus, he's from Maryland, which is where I'm from, and went to Georgetown Prep, which always irritated me as a public school student.
You've had such a long and successful career, but you're now 70. Do you ever think about retiring.
I'll think about it when I hang up now. I don't think about retiring. I think about performing a little less. I opened for Kathleen [Madigan] in Atlantic City. I went to open for her and to hang out. I said that was what I was going to do. I was going to transition and become her opening act and would eventually just be in the audience heckling her. I think I will continue to perform on one level or another. I will do panels and sit down with really smart people and talk about stuff. I will also probably transition out of performing to do more writing.