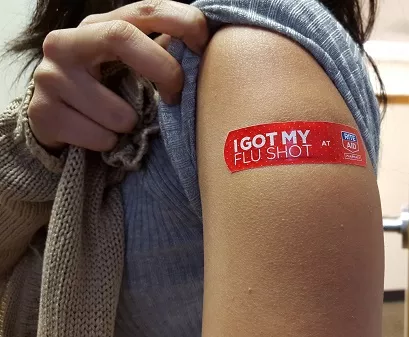 A record number of Americans died last year after contracting the flu, including a high number of people from Northeast Ohio. Statistics recently
released
by the Centers for Disease Control show that around 80,000 people died during the 2017-2018 flu season, numbers that haven't been seen in four decades.
Cuyahoga County was hit hard too, with more hospitalizations than ever before, as well as 47 flu-related deaths, nearly surpassing that record of 52.
Now with influenza season revving up this month, health professionals are imploring patients to protect themselves and get the flu shot. Every year, the flu shot's
effectiveness
differs,
but doctors say
that the overall positive effects (including reducing severe flu infections) make the shot worthwhile for most people.
There are plenty of reason given as to why folks don't get the flu shot, but here are some we hear the most often among our family and friends:
-It hurts
Pinch your arm right now. A shot feels exactly like that. The uncomfortable part lasts a couple seconds. Breathe.
-It costs too much
Most insurance companies cover the shot as a preventative measure. Don't have insurance? The cost of a flu shot runs somewhere between $20-$40 and can be administered at a pharmacy such as Walgreens or Costco. Check out the most up-to-date prices right
here.
-I don't have time
Do you have time to scroll absentmindedly through Facebook right now? Then you have time for a flu shot, which takes just seconds to administer.
-I never get sick
There are those super humans among us who never fall ill. But it's more likely what you mean is that you never get sick enough to not come to work. Meaning you're the one in the office showing up with a slight fever, while hacking everywhere and leaving your snot rags around. It's time you thought of others.
-Isn't that just for old people?
It is true that the flu shot is highly recommended for older individuals, and people with compromised immune systems. But the shot is recommended for most other people, too.
As always, do consult your doctor before getting the flu shot.