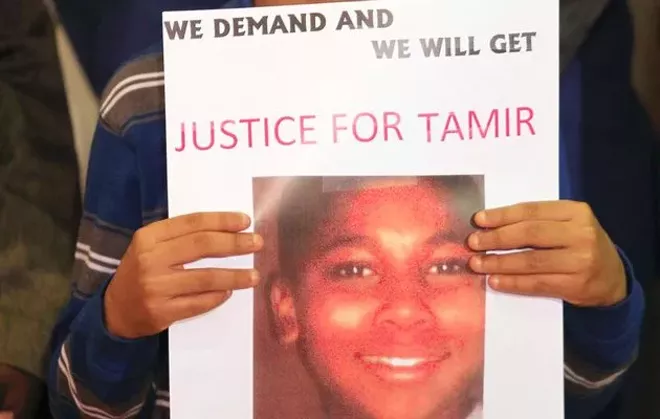 Former Cleveland police officer Timothy Loehmann was fired from the force in 2017 for lying about his previous job history, but was not indicted for the shooting of 12-year-old Tamir Rice. As an unemployed officer, Loehmann was free to apply for jobs elsewhere, and will now "protect and serve" the small Ohio village of Bellaire, which has a population of around 4,170.
In case you're forgotten, Loehmann was one of two officers who responded to a 911 call in November of 2014 about a "man waving a gun around." When the officers arrived, both Loehmann and his partner claimed they repeatedly yelled at the boy to "show me your hands" before Loehmann opened fire.
Surveillance video showed Loehmann shooting Rice within two seconds of exiting his patrol vehicle. Loehmann fired his service weapon twice, killing the 12-year-old. Despite this evidence, Loehmann faced zero legal repercussions for the shooting.
Rice's mother said she's not in favor of this hiring: "Ms. Rice believes that Timothy Loehmann does not belong on any police force, anywhere, period," Rice family attorney Subodh Chandra told
The Huffington Post
. "Someone with his record should not be subjected upon the citizenry. But she does hope that this means that he will not ever return to Cleveland."
Bellaire Police Chief Richard "Dick" Flanagan sees this as a second chance for Loehmann, who was a trainee at the time of the shooting. "He was cleared of any and all wrongdoing," Flanagan told
The Intelligencer
. "He was never charged. It's over and done with."
Lest we forget, before Loehmann joined the Cleveland Police after lying about his job history, he was an officer in Independence, Ohio, where he was forced to resign after being deemed
unfit to be a police officer
. He also failed a Maple Heights Police Department exam in 2009, something he also didn't
disclose
to Cleveland's police department.