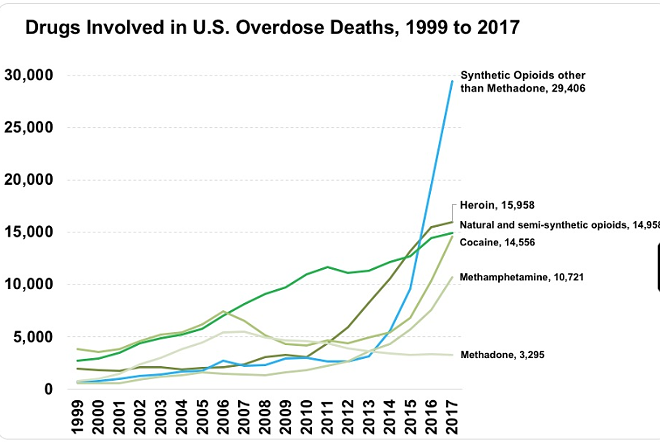 COLUMBUS, Ohio - Despite the public awareness of the opioid epidemic, record numbers of Ohioans are dying from drug overdoses.
State data shows unintentional drug overdoses rose nearly 33 percent from 2016 to 2017, claiming the lives of more than 4,000 people. Assistant professor of health policy at Ohio University Dan Skinner said, like any complex social phenomenon, understanding the opioid crisis is multi-faceted.
"So there's the role of stigma and thinking that addiction is about other people, and you have the role of pharmaceutical companies and the profit motive and the whole story about the misrepresentation of risk factors around OxyContin in particular," Skinner said. "There's enough blame to go around, for sure."
Nationally, opioid overdose deaths began their gradual rise before the turn of the century; and in 2010, heroin overdoses began to spike. After 2014, synthetic drug overdoses skyrocketed and now are attributed to twice as many overdose deaths as opioids.
Libbie Crawford of East Liverpool understands the tragedy of opioid abuse. Her father suffered from Post Traumatic Stress Disorder after serving in World War II. She said he committed suicide when she was just a little girl after becoming addicted to painkillers. And she said she fears for other struggling families who don't have treatment options.
"We're going to lose an entire generation of people if we don't take care of this issue now," Crawford said. "The war on drugs has not helped. My definition of insanity is to do the same thing over and over again."
Skinner said a "law and order" approach has been used in the past to deal with drug addiction, but it's really a public health issue. And he said with the opioid epidemic, society is finally starting to see that it's not only happening in low-income communities.
"We've heard these narratives before people who say we 'were a good family, we went to church, we did the right things, my kids went to college,' all of those kinds of hallmarks of middle class - and I'll say it - white-mostly America," Skinner said. "A lot of people with the opioid crisis all of a sudden learned that it was them too, that they weren't immune to this."
Since 2011, the Governor's Opiate Action Team has stepped up efforts to stop drug traffickers, ramped up youth drug prevention programs, worked with the medical community to reduce opioid prescriptions, and focused attention on medication-assisted treatment options. Part three of our series runs Wednesday and focuses on the cycle of addiction.
Reporting by Ohio News Connection in association with Media in the Public Interest and funded in part by the George Gund Foundation.