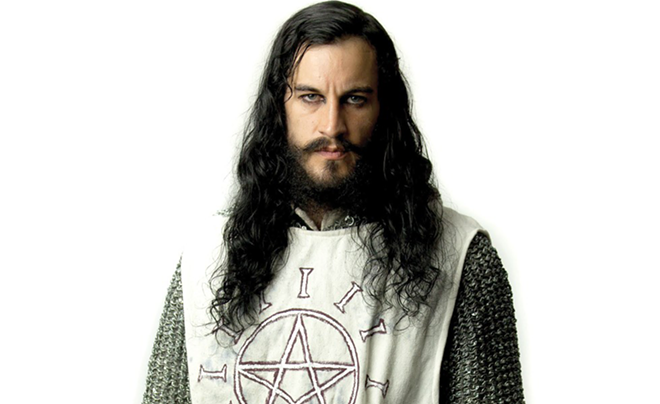 Lord Levi Athon aka "Leviathon" aka McKenzie Levindofske aka "The Alt-Knight" is running for Ohio Congress in District 9. No, seriously. He's recognized as an official write-in candidate for the district currently represented by democrat Marcy Kaptur.
We did a profile on The Alt-Knight
last year
, and many people were justifiably concerned that we were giving a man, a known Islamophobe and Antifa decrier, a platform and attention he so obviously craved. Today, however, we're discussing The Alt-Knight as a legitimately recognized independent candidate, a fact more concerning than any of the claims made against him.
As Sam Allard stated in his profile of Levindofske, "The claims against Levie are harder to pin down. He was said to have stolen signs and destroyed them at the local March for Science. Later, the Antifa administrator said, they'd received reports of Levie calling people 'faggots' and making 'suggestive comments' to a group of minors at May Day. At Pride in the CLE, Levie was said to have stolen signs and stomped on them."
However, reports of Levindofske's offensive harassment have not stopped since our initial coverage of him, and the public's response has been less-than-stellar. After a user posted a link to his campaign website in a neighborhood facebook group, another Facebook user recounted a run-in they had with the Alt-Knight.
He's awful. I've been unfortunately in his vicinity when he lost it on a guy in the Marc's parking lot who didn't remember that he left his radio turned up when he pulled into the lot. Like the guy literally blasted an R&B song for 2 seconds and quickly fumbled with the volume to turn it down low. Mac swarmed his car and used some terrible racial slurs to ridicule this man LOUDLY. Horrible. -Facebook user
Levindofske is a known figure at many of Cleveland's protests and political rallies, always clad in his knight-gear, and normally screaming at Antifa members and those that appear to be Islamic. Levindofske claims to be part of an organization called, "The Order of the City." As
Scene
said back in 2017, it may or may not consist of Levie himself and no one else.
He attended the Kent State open carry rally late last month and was
said to have been
at the center of multiple confrontations. He "exchanged barbs with everyone from anti-fascists to students to members of Black Lives Matter," a report from KentWired.com said. "Whenever his mask lifted, he had a crazed smile."
According to an email from someone going by "Stella Sader" (
a known alias of Levi
ndofske
), the Order of the City is a "Public Safety and Cultural Heritage Organization." His "assignment" was described as a "soft patrol of downtown Cleveland, including parks, streets, alleys, and Christian churches from E. 12th to Public Square."
More than likely, Levindofske has invented this group in an attempt to add legitimacy to his unneeded vigilante work around Cleveland. That is, if by "vigilante work" we mean "straight up harassment."
The Stella Sader character also claimed that "other members" are also part of an organization called the Order of the Artifact Recovery Knights (ARK). But as Allard pointed out last year, this also appears to be a solo outfit, the name that Levie gave himself when he took a trip to the Middle East with the hopes of recovering the Ark of the Covenant.
Regardless, Levindofske is a legitimate congressional candidate, but you won't find his stances on the issues on his campaign website. Instead, you'll be treated to a bevy of cosplay photos and a long-winded essay on where "you may have seen him" including "inside a cave or atop a Crusader castle on an archaeological adventure in the Middle East."
Does he think he's
Indiana fucking Jones?
In his own words, Levindofske's campaign is run on the self-described grounds that "He is a gentleman- A Good Knight, who is aggressively confrontational against corruption. He is strong on public safety. He is a logical man with the proper capabilities necessary to represent Northern Ohio residents in this unique political scene."
Yeah, okay.