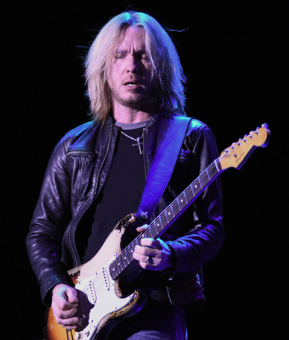 FRIDAY, NOV. 2

Kenny Wayne Shepherd
The Louisiana-born Shepherd has a 20-year recording career that began when he was 16. Over that time, he's gotten five Grammy nominations and had six No. 1 debuts on the Billboard Blues charts. One of his best releases, 2014's
Goin' Home
features gruff vocals and gritty guitar vocals as it sounds like it was recorded during a different era. Expect to hear some tracks from it along with tunes from last year's
Lay It On Down
at tonight's show. (Jeff Niesel) 8 p.m., $17.50-$59.50.
Canton Palace Theatre
.
Steve Martin & Martin Short
Since 2009, comedian Steven Martin has played bluegrass music with Steep Canyon Rangers. He doesn't tour often with the band, but this fall he's out on a series of dates with the group. Martin along with comedian Martin Short will bring the show, dubbed An Evening You Will Forget for the Rest of Your Lives Featuring the Steep Canyon Rangers & Jeff Babko, to E.J. Thomas Hall tonight. The concert will include stand-up, film clips, musical numbers and "conversations" about their lives in show business. (Niesel), 8 p.m.
E. J. Thomas Hall
.
(Sandy) Alex G/Half Waif
For almost a decade now, (Sandy) Alex G has regularly released new material. Originally, he started off playing acoustic but has since added electric instruments. In 2013, his musical style changed, and he adopted an indie-pop sound for Joy, changing his name from Alex G to (Sandy) Alex G in the process. With 2012's
Rules
, he added drums, guitar and piano to the mix. On his most recent studio album, last year's
Rocket
, he opts for a more upbeat approach. He's also just issued a live album,
Live at Third Man Records
. (Daniela Cacho) 8 p.m., $16.
Musica
.

SATURDAY, NOV. 3

Big Sandy And His Fly-Rite Boys
Since he started performing with his backing band the Fly-Rite Boys some 25 years ago, singer-guitarist Big Sandy has continually attracted new young fans and introduced them to Western swing and rockabilly. Sandy, who just wrapped a 25th anniversary tour, has recently released an album of old tunes that he's rearranged into acoustic instrumentals. His music, which recalls the type of music that was popular decades ago, has an easygoing vibe that appeals to fans of traditional country and rockabilly alike. He's been playing Cleveland for years and always puts on a good show. (Niesel) 8:30 p.m., $13 ADV, $15 DOS.
Beachland Tavern
.
The Choir: Artifact: The Unreleased Album Live/Abbey Rodeo, Jeff Soukup
The locally based power-pop act the Choir had a hit right out of the gate in 1967 with its debut single, "It's Cold Outside." While the band would quickly implode after a couple of short years, it left a lasting impression. The group opened for acts such as the Who and the Yardbirds and its members would wind up in bands like the James Gang and the Raspberries.
Artifact: The Unreleased Album
features ten songs that the band, which at the time included singer-organist Phil Giallombardo, singer-guitarist Randy Klawon, singer-bassist Danny Carleton, singer-drummer Jim Bonfanti and singer-pianist Kenny Margolis, recorded in 1969. Most of the songs have never been released. The late Paul Hamann discovered the music that his father had recorded at his Cleveland Recording Studios. Ducky Carlisle remastered the tunes, and Tommy Allen mixed them — the duo represents the same production team worked on the Raspberries' release
Pop Art Live
. Tonight, the original 1969 lineup featured on the recording will reunite for this special show. They'll play the Beachland again tomorrow night at 7. (Niesel), 8 p.m., $20 ADV, $25 DOS.
Beachland Ballroom
.
Gov't Mule
After touring to celebrate their 20th anniversary in 2014, the guys in the jam band Gov't Mule decided to take a break. Band leader Warren Haynes, however, spent most of his time writing new material so that when the group returned to the studio in 2016 it had plenty of material to record for what would become its new album,
Revolution Come… Revolution Go
. As the album title implies, the songs have a political bent to them, something that was exacerbated by the fact that the band went into the studio on election day. (Niesel) 8 p.m., $35-$45.
Masonic Auditorium
.
Elton John
Elton John isn't dying — not that we know of anyway. Yet, as he announced in January, the musician is retiring from touring. And he's not alone. Already this year, Ozzy Osbourne, Paul Simon, Joan Baez and Minus the Bear have come through Cleveland saying it was the final time., But as a species, we're not good at the messiness of goodbyes. Perhaps that's why John, 71, is prolonging the inevitable by touring around the world for the next three years, bringing his "Crocodile Rock" and "Rocket Man" anthems to the masses., He comes to Quicken Loans Arena tonight for what he claims is his second to last appearance on an area stage (he'll be back at the Q Nov. 12, 2019, for the final time). For many loyal fans, sitting through the set will bring a flash flood of memories. Some may not be ready to see him go. (Laura Morrison) 8 p.m.
Quicken Loans Arena
.
SUNDAY, NOV. 4

Hobo Johnson & the Lovemakers/Oliver Tree/Jeffrey Lewis & Los Bolts
Born Frank Lopes Jr., Hobo Johnson draws from hip-hop, punk, folk, and poetry on his wacky debut,
The Rise of Hobo Johnson
. Lopes Jr. went from performing on the streets to becoming a buzzed about artist in the Sacramento music scene by appearing at countless open mic nights. His new single, "Father," finds him doing his manic spoken word thing over a simple piano melody. Expect to hear it at tonight's show. (Niesel), 7:30 p.m., $25 ADV, $30 DOS.
House of Blues
.
Stephen Marley
Stephen Marley, 46, is the second son of Bob Marley. The eight-time Grammy winner has rather a calming presence; his speaking voice is as joyous as his singing voice and both are hauntingly similar to his father's. But it's not only his father's voice that Marley echoes. Stephen and his older brother Ziggy Marley founded Ghetto Youths International Foundation in 1993 to carry on their father's humanitarian efforts. Today, many of the Marleys – and there's quite a few of them – are musicians who often perform their father's songs, which Marley has described as an "automatic" phenomenon for the family that's "embedded" in their DNA. Marley will perform an acoustic set of his forward-thinking reggae tonight. (Breanna Mona) 8 p.m., $39-$44.
E. J. Thomas Hall
.