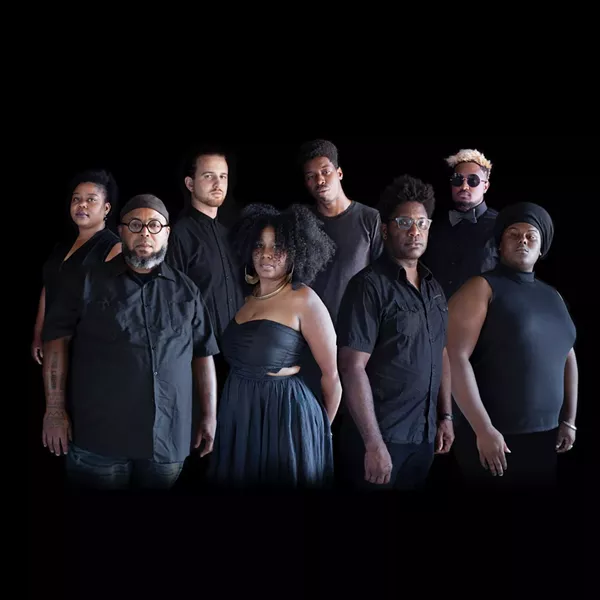 Given that the very first show that Mourning [A] BLKstar, a local self-described DIY Afrofuturist soul group that's received some national attention and widespread critical acclaim, played was a memorial service for a friend of the band who was murdered, it's only fitting that band ringleader R.A. Washington would describe the group's new album,
The Garner Poems
, as a collection of dirges.
"I always considered myself a funeral player," says Washington one afternoon from Guide to Kulchur, the near west side bookstore and non-profit that he founded a few years ago. As he speaks, he sits in front of a sampler and randomly programs beats that blast through the makeshift sound system, suggesting that music constantly runs through his head. "There's just something about the dirge throughout history, but that's a formal concern. I could talk about that for hours."
To mark the release of the new album, which came out last month, Mourning [A] BLKstar performs with Aku Aku, B. Landrum and Latchkey at 8:30 p.m. on Wednesday, Nov. 21, at the
Grog Shop
.
The band's history dates back about three years. Washington had some songs and began to assemble a group that he thought could bring them to life.
"I had some beats, and I just thought it would be fun to have some people I knew sing over them," he says. "The whole band has different influences and ways they're coming at it. We're not lying when we say we're multi-generational. There are different age groups and economic backgrounds and different ways of being black folk, which are constantly in your face. They're not the kind of cats who I would think would want to do anything like this. I'm always kind of shocked."
First, Washington recruited singer LaToya Kent, whom he first met when they attended high school together, and then he nabbed James Longs, a guy who was known for his ability to sing karaoke.
"I played the beats and gave them the lyrics and told them, 'Now, we're going to record,'" says Washington. The cut some tracks at Zombie Proof Studios and have steadily played around town ever since.
"We didn't think nothin' of it," says Washington when asked about those initial recording sessions. "We just recorded some songs to see what happened. I listened to the playbacks and thought it was pretty good. I didn't mind it. LaToya has a cousin, Kyle Kidd, who's a jazz singer. We thought he could sing backing vocals. Once we heard him sing, we knew he shouldn't just be singing background vocals. So we have three singers but approach it like Wu-Tang. Over the last two years, we've added a backing band and other musicians."
The band put out
BLK Musak
on Blue Moon Records in 2016 and then followed it up with
The Possible
.
"We tried to crowd-fund that second album, but we didn't get enough pre-orders to pay for it, and it was a crazy ordeal to get it done," says Washington. "But the record is there, and it's pretty cool."
For
The Garner Poems
, Washington took a batch of songs from a suite about police brutality and the Voting Rights Act of 1965. He wrote them for trumpeter and composer Terence Blanchard, but when Blanchard didn't use them, he took them to Mourning [A] BLKstar.
"I told [Blanchard] I could do other stuff, and he said, 'Write your poems, spoken word guy,'" Washington says with a shrug. He admits that communicating with Blanchard, who's regularly touring and involved with an array of projects, made things difficult.
The band recorded the disc locally at Bad Racket Studios. It brings out the band's funk/soul/groove side, something that's apparent from the opening track, "Anti-Anthem."
"We had a version of that song that was on a slower sample," says Washington. "It had this funky bass line that I had put together. It was cool. We played it out a lot. One of the machines crapped out, and the sample track was gone. But we still had the lyrics, and everyone loved that song. I just looped up the drums and we redid it. It's almost a remix, but no one ever heard the first one. I like the lyric. It's telling. I felt like it needed to be a little more of a funky track. When we got to do it over, that was great. It worked out over the different beat."
Washington penned most of the album's lyrics in a few days. Tracks such as the simmering "2020," a song that finds band members whispering over a steady bass riff and somber horns, address voter suppression and apathy.
"I'm always making beats, and if something catches me, I'll just start writing lyrics for it," says Washington. "I bring them to the band, and the horns write their parts, and the drums add their parts, and we have a song. It's my favorite way to work. You can constantly be working on stuff and storing it up. The band is always thirsty for a new beat. They're like MCs. They want to see who gets to sing lead on what. That keeps it kinda fresh."
The album concludes with the noisy "These Stars Collide." It includes references to various victims of police brutality.
"In a three-minute song, we wanted an opportunity to remind everyone how many people that were killed," says Washington. "There were even more than that we didn't mention. Shoutout records are a part of the culture from [DJ/producer] Scott La Rock to the old Wailers, who have their moment for [the late] Bob [Marley]. When we play that song, I think it sounds like if [keyboardist] Bernie Worrell came to visit my house, and we were rapping and made a gospel song. This would be his gospel song. It has that kind of synth line. LaToya [Kent] sounds so good singing that song. It's more closer to
BLK Musak
too because it's a little more angular. I don't want people to think we play smoothed-out R&B at all time."
As opposed to the refined record, the band's live show comes off as something much more aggressive. Washington describes it as "sloppy, passionate and black."
"It's big too. People always tell us, 'That was pretty heavy,'" he says. "I think it's a pretty cool live show. It's a little bit of a fuck you moment too [to all the detractors]. I always try to collaborate, and in the past, most cats didn't really want to collaborate [with me]. Now, they do."
Mourning [A] BLKstar with Aku Aku, B. Landrum and Latchkey, 8:30 p.m., Wednesday, Nov. 21, Grog Shop, 2785 Euclid Heights Blvd., Cleveland Heights, 216-321-5588. Tickets: $8 ADV, $10 DOS, grogshop.gs