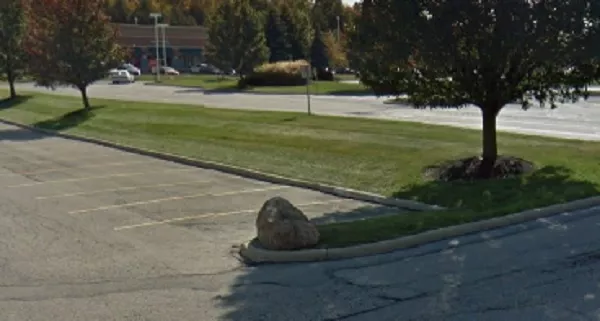 Screenshot via Google Maps
The rock, seen here in its former home.
The Avon Commons
"rock of shame"
is no more. Avon Mayor Bryan Jensen has confirmed that, as of this morning, the rock was pardoned and removed from its former corner median spot in the shopping mall.
The internet has had a field day since Avon resident Tim Deditch posted a bunch of photos of cars stuck on top of the rock on Facebook over the weekend.
"It's been a fun thing, it's unbelievable," Jensen says from his office today. "The rock is over 3-feet high, what would cause you to keep going once you've jumped the median? How does someone get out on that rock? But I have to sympathize. There's no good way to get off of it. It's going to be expensive repairs."
Jensen says that his office reached out to the Avon Commons group this week to see what could be done about the car-damaging situation. He says the rock was originally placed there to deter drivers from jumping that curb in the first place.
There's going to be a little bit of sadness now that the rock is gone," Jensen says. "We did get to have some fun with this."
A sign reading "pardon the rock!" now stands in the rock's former home.
It's unclear where the rock will live now, Jensen says, but he suspects it's "probably going to a rock pile."