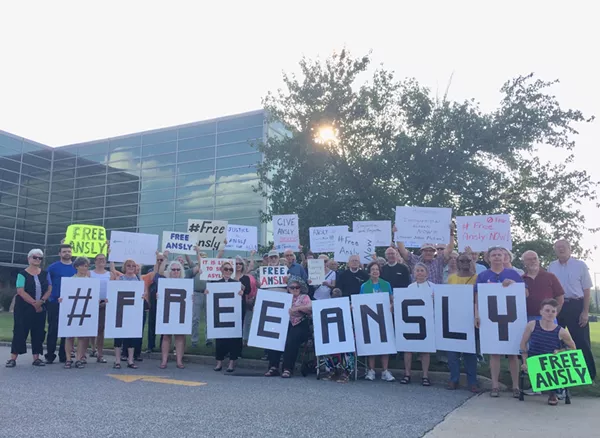 Rally for Ansly Damus outside Brooklyn Heights ICE office, photo by Eric Sandy
Ansly Damus was released from the custody of Immigration and Customs Enforcement (ICE) today, following two years of detainment in the Geauga County Jail. In seeking asylum at the California border in October 2016, Damus, a Haitian citizen under political persecution at home, was immediately taken into federal custody and sent to the rural Ohio facility, which maintains a contract with ICE.
"I'm free and happy," he said upon walking into the lobby of the ICE office in Brooklyn Heights, greeted by half a dozen local reporters. "I see the sun!"
In a blend of French and English, Damus described his two years in ICE custody, spent in a windowless cell in Chardon, Ohio. "I never imagined such treatment!" he said in French, translated by Freda Levenson, legal director of the ACLU of Ohio. "What kept [me] going was [my] love of God. ... I am very, very happy. Many people helped me."
Today's release, however, is not an asylum determination. Damus is now out on parole as his asylum proceedings go on. He is free to live with sponsors Gary Benjamin and Melody Hart in Cleveland Heights while his case is active.
"This is a beautiful day for freedom," Levenson said, but she added that Damus' story is a cautionary tale for the citizens of the U.S. and the refugees seeking asylum in this country. "Mr. Damus has wasted two years of his life — and what for?"
With his newfound freedom, Damus said, "I want to go to church and thank God." Asked whether he thought he would be dead, had he remained in Haiti, he said, "Yes."
"It takes people united under the rule of law to get the government to comply," Levenson said.
Damus' story has receved national coverage as well.
"There never was any reason to imprison him, but we're delighted he's being released now," ACLU attorney David Hausman told the
Huffington Post
. "It's a wonderful moment ... but it's also just awful what he's been put through and there's no conceivable justification for it."
Damus wrote a personal essay translated and published by the ACLU of Ohio earlier this year explaining his escape from Haiti. "They set my motorcycle on fire and threatened to kill me," he said. "Fearing for my life, I fled Haiti 10 days later, leaving behind my wife, two young children, parents, and siblings. I was in Brazil for 18 months, living first at a refugee camp, and later in a shared, rented room. I found work in construction but faced discrimination. I was told I was an animal, that people like me were flooding the country to steal jobs. There was no life for me there, but I was afraid to go back to Haiti.
"I know that I am not the only one in this situation, and this isn't the way that it should be in the United States," Damus wrote. "Growing up, I always heard talk about America and its promise. In previous years, those who sought asylum were released on humanitarian parole while their cases were decided, but now the government has simply stopped letting people out."