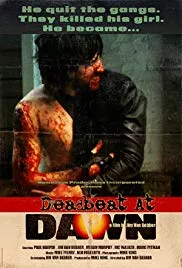 A low-budget/DIY film even by low-budget/DIY film standards, the 1988 action movie
Deadbeat at Dawn
centers on a group of street gang members who try to come together to pull off an armored car robbery.
To mark the movie's 30th anniversary, a restoration of the film has recently come out on Blu-ray. Director Jim Van Bebber will attend two special screenings of the restored movie that take place at 10 p.m. on Friday and Saturday at the
Capitol Theatre
.
"I saw the [1972 martial arts] film
The Way of the Dragon
, which was called
Return of the Dragon
in America when I was 7 or 8" says Van Bebber in a recent phone interview when asked about the film's initial inspiration. "I wanted to make a big violent tribute and one of those classical Kung-fu action films — a revenge thing."
Van Bebber says he financed the movie piecemeal by getting money from relatives and "shady characters," and he filmed it guerilla style. Many scenes take place in abandoned buildings, and a battle between two gangs that opens the movie takes place in a graveyard. Van Bebber, who also plays the film's main character Goose, says filming in Dayton proved to be particularly challenging.
"Let me just say this — Ohio is not friendly to homegrown talent," he says. "They dismissed me like the plague. I was hated by everyone in Dayton. We were always out there guerilla style. The entire film was run and gun. We didn't get permit one except for the restaurant where the crazy guy is ordering breakfast for God."
One of the film's twists includes a character who practices witchcraft and uses a Ouija board to see her fate.
"I wanted to spice it up," says Van Bebber. "Instead of having the generic wife or girlfriend as the sacrificial lamb, I wanted to make it kind of witchy. The '70s was the golden age of Satanism as far as the media was concerned. After [Charles] Manson, it got a lot of ratings. I wanted to make it spicy and put some peppers in it."
Van Bebber, who had studied briefly in the Wright State film department, says he cast the film by finding local actors and actresses.
"I was hip to who was good in the Wright State theater department," he says. "I reached out to the hum-drum agents in Ohio. They represent actors who wind up in Skyline Chili commercials and shit like that. That's how we found Charlie Goetz, who plays Goose's father."
Van Bebber says he's particularly happy with the Blu-ray version of the movie, which he originally shot using 16mm film.
"That was beautiful," he says. "Arrow Films out of the UK handled it, and they're what I consider to be the Criterion for the alternative crowd. They don't just release exploitation movies. They really are connoisseurs, and they do impeccable work. I was honored they took it on, and they really did a hell of a job. It's as closest it looks to a print now."