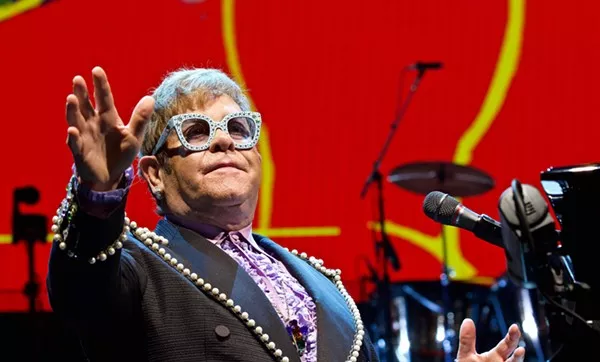 Scott Sandberg
Elton John performing at the Q.
During a year characterized by an inordinate number of farewell tours, acts such as Bob Seger, Slayer, Ozzy Osbourne and Elton John came through Cleveland on what they've said will be their final tours. Unsurprisingly, those shows drew capacity crowds.
On the club/theater level, there were plenty of notable performances too. Local rockers the Choir reunited to play two shows at the Beachland, and the newly revamped Agora featured memorable concerts from indie acts such as Death Cab for Cutie, Fleet Foxes and Father John Misty. Panic! at the Disco played a surprise show at the Grog Shop, and rapper Common came to town as part of the annual Tri-C JazzFest.
Here's a look back at some of the year's best concerts.
Trey Anastasio Trio
House of Blues
April 17
When we heard that keyboardist Ray Paczkowski had been diagnosed with a brain tumor, the community's collective heart went out to him; the Milkman, after all, is very much the lively soul of Trey Anastasio Band. And so, TAB's spring tour was up in the air for a few days before Anastasio himself announced that he'd be converting those dates to Trey Anastasio Trio shows. Rounded out by drummer Russ Lawton and bassist Tony Markellis, the Trio hadn't played in years. As these things happen, the first night of a spring tour — in Cleveland — would mark 20 years to the night since the Trio first performed onstage together. The show was sold out, and the crowd was in fine spirits on a cold April evening. (Eric Sandy)
Dan Auerbach
Agora Theatre
March 31
Much like rival Jack White, singer-guitarist Dan Auerbach has evolved from the days when he fronted a noisy duo (in Auerbach's case, the Akron garage blues act the Black Keys). Auerbach first expanded his musical range with 2009's solo effort,
Keep It Hid
, and then transformed again with the Arcs a couple of years ago. His latest solo effort, last year's
Waiting on a Song
, represents yet another phase as Auerbach recruited noteworthy session players such as drummer Gene Chrisman (Elvis Presley, Aretha Franklin), keyboardist Bobby Wood (Presley, Dusty Springfield), pedal-steel guitarist Russ Paul (Elton John, Leon Russell) and bassist Dave Roe (Johnny Cash, Sturgill Simpson) to play on the album and accompany him on the tour that came to the Agora. The show didn't disappoint even though Auerbach stuck to his solo material and a few choice covers. (Jeff Niesel)
Beyonce and Jay-Z
FirstEnergy Stadium
July 25
Beyoncé Knowles-Carter and Shaun "Jay-Z" Carter need you to know they are still crazy in love. They want you to know that they have moved on from their tabloid fodder years, that they have fought for their marriage and that they are stronger. But they couldn't just prove this to themselves; they had to prove it to the rest of the world by heading out on this giant spectacle of a tour together. Hammering home the point, the two arrived at FirstEnergy Stadium on a descending platform while wearing gleaming white and holding hands. There were no dancers yet to fill the expansive, two-runway stage — there was only the two of them and the shadows of the band behind. Through the cheers and screams, they rolled into Jay-Z's hit with Justin Timberlake, "Holy Grail," stomping and gliding around the stage during a performance that made a statement. (Laura Morrison)
The Decemberists
Agora Theatre
April 24
In support of their eighth studio album, the Decemberists took the Agora Theatre stage last year as part of a stop on their Your Girl/Your Ghost tour. Singer Colin Meloy, who was dressed in dark denim and sported a scruffy 5 o'clock shadow, and his troupe of Oregonian misfits started the night off with the happy sad song, "Everything is Awful," which they delivered with insanely ironic delight. Meloy kept extending the song, holding the mic out to the crowd for a sing-along, joking that he could do that all night, making up verses as he went, until guitarist Chris Funk shot off a confetti gun at the crowd, punctuating the end of the cartoonish track and establishing the festive approach the band would take during the performance. (Julia Charvat)
David Byrne
Jacobs Pavilion at Nautica
Aug. 7
Annie-B Parson, the artistic director at Brooklyn's Big Dance Theater, worked with former Talking Heads singer David Byrne on the choreography for last year's tour in support of his latest solo album,
American Utopia
. While it was in the planning stages, Byrne told Parson that she would have a completely empty stage to work with. None of the instruments he planned to use in the concerts would have to sit on the stage. The novel concept would allow Byrne and his 12-piece backing band to dance and sing as if they were on the street or performing around a campfire. Byrne brought the result of that collaboration with Parson to town for this terrific 100-minute show at Jacobs Pavilion at Nautica. The visually striking concert combined music and performance art in an extremely unique manner. (Niesel)
The Choir
Beachland Ballroom
Nov. 3 and Nov. 4
How and why would the Choir, a 1960s one-hit wonder local band, sell out the Beachland Ballroom for two consecutive nights, months in advance? For starters, the Choir's "It's Cold Outside" is a landmark classic of 1966 Nuggets garage rock singles. Named the Mods before their record deal, the Choir was a UK-rock-inspired revolving door of important Cleveland rock musicians from 1964 to 1970 with drummer Jim Bonfanti as the only constant member. The Choir also had key connections to one of the internationally cult-est of Cleveland's cult bands, the Raspberries. An early Choir inspired Eric Carmen to make music, and the Raspberries' lineup was populated with Choir alumni, including Bonfanti. The Choir of 1968/1969 incorporated non-rock genres along with a psychedelic sensibility teetering on the precipice of prog rock. These two sold-out shows that took place at the Beachland Ballroom reaffirmed the band's significance. (Michael David Toth)
Common
State Theatre
June 30
It's an indisputable fact that rapper/actor Common is one of the most highly respected elder statesmen in hip-hop. After he debuted back in 1992 with his first album,
Can I Borrow a Dollar
, it has been quite the journey for the Chicago native. The rapper shared some of that journey at the State Theatre as the headlining artist at last year's Tri-C Jazzfest. Common emerged onto the stage in darkness, but his recognizable silhouette garnered cheers from the eager crowd. The 90-minute set ended with Common and John Legend's Oscar-winning song, "Glory." (Emanuel Wallace)
Dead & Company
Blossom
June 21
It's hard to think of a better salve for these horrific times in America than taking in a Dead show on cool, green grass with good friends. It's a temporary trip into the past, into a better version of what this country can be. The community, the music: It's all there, and it can't be taken away. I'm being a little glib, but, honestly, it felt momentous to be able to walk into Blossom (through rigorously Orwellian security lines, sure) and leave the aneurystic news cycle behind for a while. It helped immensely that somehow the mind-numbing traffic jams of last year's show didn't happen this time around, and the gray clouds above the hilly Cuyahoga Valley National Park gave us a break and refused to rain. As far as the show? Listen, there was no better way to usher in last year's Summer Solstice than with this Dead show. (Sandy)
Death Cab for Cutie
Agora Theatre
Dec. 4
When Ben Gibbard was nearly 30 years old, he wrote a song that people would travel far and wide to hear. At that point, back in 2005, he'd been writing songs with his Seattle band Death Cab for Cutie for almost a decade. But with the emotional and sparse "I Will Follow You Into the Dark," a track off the band's major record label debut,
Plans
, something resonated deeply. In front of a tightly-packed sold-out crowd at the Agora, Gibbard made his fans wait for the song. But finally, for the start of the group's encore, he came back out alone with an acoustic guitar and gave everyone what they came to hear. The entire audience sang every word and teared up and held their cell phones high to record and hugged their friends. Of course, there were plenty of other tunes that people came to hear, and the band didn't disappoint. (Morrison)
Def Leppard and Journey
Quicken Loans Arena
May 28
Def Leppard opened last year's double header with Journey at the Q with the kind of excessive drama that made the '80s the decadent era the band once dominated. At the concert's start, a huge countdown clock ticked away the time until there was no time left and suddenly "DEF LEPPARD CLEVELAND" in giant fire-orange letters filled two giant screens. The screens started moving to reveal the band, the letters becoming huge big-box televisions reminiscent of old "I want my MTV" commercials, and then the band assaulted the crowd with the huge hit "Rocket." Frontman Joe Elliott stomped the runway with his massive electric socket hair blowing in the wind as he screeched out lyrics that seemed to time warp the crowd straight back to 1987. Journey then kicked its set off with the hit "Separate Ways." On it, singer Amel Pineda channeled original frontman Steve Perry to an almost frightening degree of accuracy. Pineda was a ball of energy as he ran to each corner of the stage to sing to every crevice of the crowd during this terrific double bill featuring two Rock Hall Inductees. (Charvat)
Father John Misty
Agora Theatre
Sept. 22
Father John Misty strutted onto the Agora stage dressed in a stark white suit, his pants slung low on his narrow hips and his jacket slightly billowed around his slight frame. Drenched in a blood red light, guitar firmly slung over his shoulder with his six-piece band surrounding him, Misty immediately commanded attention with his 2012 hit "Hollywood Forever Cemetery Sings." Hiding behind dark glasses and his signature thick beard, his voice sounded strong and deep as he lured us lower into his hypnotic trance that lasted the entire set. (Charvat)
Fleet Foxes
Agora Theatre
July 23
Fleet Foxes frontman Robin Pecknold has the voice of an angel. It's a voice that could easily be confined to a solo singer-songwriter gig, something he's experimented with in year's past. But Pecknold is made all the better with a band. And at this packed-in Agora show, the six-piece (on the road) act, finally back in tour mode after years of unknowns, showed how it's only stronger together in its return. Known for its beautiful, often hymn-like songs, the band brought the melancholic lyrics and lush, golden harmonies to the table but was far less afraid to make sounds that didn't completely sit comfortably. Outside, a storm loudly brewed, but inside, songs played with light and dark, summer and winter (especially "The Shrine/An Argument," which offered a bright yellow effect on the screen behind).
(Morrison)
Fleetwood Mac
Quicken Loans Arena
Oct. 26
While it might not have happened in the way some fans were hoping for, in the world of Fleetwood Mac, the way the celebration of their 50th anniversary played out makes perfect sense for a band that across its history has had many a member shuffle in and out the door while dealing with enough interpersonal conflict along the way to shatter five bands. When it was announced that longtime singer-guitarist Lindsey Buckingham would not be taking part in the celebratory trek, even as much of a shock as it was, it made sense that drummer Mick Fleetwood, a founding member of the group, wouldn't allow the Mac ship to be steered in the wrong direction. For guitar work, it made good sense to grab Mike Campbell, a man who had recently been left without a band in the wake of the unexpected death of Tom Petty. The band's next choice, singer-songwriter Neil Finn of Crowded House fame, was a bit more surprising on paper, but it was easy to see how he too, would fit well into the framework. As they rolled through the opening moments of "The Chain" at this show at the Q, it was quickly apparent just how well matched Finn and Campbell were for this band, which delivered an engaging performance. (Matt Wardlaw)
Foo Fighters
Blossom
July 25
The Foo Fighters kicked off their late-summer set at Blossom at full deafening decibels with the band's 2002 hit "All My Life," a fiery anthem that front man Dave Grohl delivered with a raspy growl. Grohl's long floppy hair was a drenched tangle of sweat by the end of song one. At no point did the band ease the crowd into the show. Each member came out swinging for the stars as seasoned professionals and definitive rock legends. The opening song had the intensity of an encore number. Then, with hits like "Learn to Fly," "The Pretender" and "The Sky is a Neighborhood," it quickly became apparent that every song was being delivered like it was the final song of the night, hell even of the tour, maybe even of the band's career. (Charvat)
Garbage
Hard Rock Live
Oct. 18
When the gearhead guys from Madison, WI recruited Scottish singer Shirley Manson to form Garbage, they struck gold. A terrific singer with a big, soulful voice, Manson also happens to be one helluva performer. She put her talent on display during this invigorating two-hour set at Hard Rock Live that celebrated the 20th anniversary of the band's second album,
2.0
. Fittingly, the four guys in the band all wore black and positioned themselves at the rear of the stage and mostly stuck to the shadows, giving Manson room to roam the stage. That's not a slight against their performance, either. They sounded as tight as ever, and hard-hitting drummer Butch Vig anchored the whole operation while the spotlight appropriately remained on Manson for the concert. (Niesel)
Greta Van Fleet
Agora Theatre
July 31
In the late '80s when Guns N Roses toured to promote its debut album,
Appetite for Destruction
, the band played small clubs and put on shows that displayed such unbridled energy, it was apparent the group would one day become superstars. Greta Van Fleet, a young band from Frankenmuth, MI of all places, performs with that same kind of energy. In front of a sold out crowd at the Agora Theatre, the band delivered a fierce 75-minute set that evoked acts such as GNR. It's now moved on to bigger venues so seeing the group at the more intimate Agora was a real treat. (Niesel)
Imagine Dragons
Quicken Loans Arena
June 21
Imagine Dragons ignited the evening with the explosive "Radioactive," their very first hit from their 2012 debut album,
Night Visions
. The summer sun was still up for the 8:15 p.m. start time, and the band seemed larger-than-life and almost too real in the harsh light of day. Shirtless front man Dan Reynolds wore black jeans and his skin glistened from the sweltering heat of the pavilion stage. The band's energy was high as they transitioned into "It's Time" and "Whatever It Takes." Reynolds set out his intent for the night, which was to let go and be free, and he hoped the crowd would let go and feel free with him. The sold-out audience willingly went along with him for the show's entirety. (Charvat)
Elton John
Quicken Loans Arena
Nov. 3
Near the end of this nearly three-hour set at the Q, Elton John confided that he's been taken aback by the way his career evolved. "It's been a remarkable and unexpected journey," he said as he admitted that when he and songwriting partner Bernie Taupin began working together, they figured they would write songs for other people. When no one took them up on that offer, John decided to record the tunes himself, and he subsequently put a band together to play them live. That was nearly 50 years ago, and after an incredible run that includes hit albums and induction into the Rock Hall, John has said that his current tour, dubbed Farewell Yellow Brick Road, will be his last. The epic show featured all the hits, and John's voice held up well for the entire night. (Niesel)
Dave Matthews Band
Blossom
June 2
After taking a full-band hiatus in 2017, the peaceful denizens of Blossom Music Center were giddy with anticipation for Dave Matthews Band's return — the annual heralding, indeed, of summer in Northeast Ohio. This show brought a fair setlist that touched on all corners of the Dave world, new and old, with a triumphant wave of energy in several serious stand-out moments. First things first: Longtime violinist Boyd Tinsley was fired by the band just a few short weeks ago amid sexual misconduct allegations. That matter is now left to the courts, but observant fans have been waiting to see how his absence would be felt onstage. To my ears? The impact is very noticeable; Tinsley's melody magic was an important fulcrum in the band's jamming technique. Like trumpeter Rashawn Ross and guitarist Tim Reynolds, Tinsley's contributions filled out the multi-part twists and turns that the band appends to many tunes. (Sandy)
Ozzy Osbourne
Blossom
Sept. 16
When singer Ozzy Osbourne announced the dates for his No More Tours 2, his PR firm issued a press release that emphasized it was simply "the end of global touring" for the Prince of Darkness. In other words, he might not tour the world anymore, but he'd still play "select live shows." Performing in front of a capacity crowd at Blossom, Osbourne, who took the stage wearing a flowing purple robe, maintained it wasn't goodbye. "It's not my farewell tour," he said early in the nearly two-hour set. That might be the case, but it certainly felt like a farewell as Osbourne capably revisited his past and played hits from both Black Sabbath and from his solo career. (Niesel)
Panic! at the Disco
Grog Shop
March 13
Mid-way through this surprise show at the Grog Shop, singer Brendon Urie paused between songs to slap high fives with the fans pressed up against the front of the stage. "Fuck, I miss this," he said. "This is crazy." These days, the emo-pop band is quite capable of filling arenas (which it did on last year's tour that included a stop at Wolstein Center), but to build hype for a forthcoming new album and tour, the group played a number of surprise shows in the next week or two. The Grog Shop show was the first of the gigs. The club reportedly turned away hundreds of people after quickly reaching capacity once doors opened at 7:30 p.m. Panic!'s frenetic 65-minute set certainly didn't disappoint the lucky 300 to 400 fans who managed to see the show. (Niesel)
Liz Phair
Beachland Ballroom
Sept. 11
Against a wall of strobe-lit foliage and a lighting rig that looked like nighttime fireflies, Liz Phair brought her "Amps on the Lawn" tour to Cleveland, and it felt like a throwback to more vulnerable times, in a pure sense of the word, and more fun times. The tour came as Matador released a 25th-anniversary retrospective of Phair's landmark
Exile in Guyville
, and the Cleveland show was riddled with great picks from that album. The "Never Said" into "6'1"" into "Help Me Mary" stretch was a fine example. The sold-out crowd made sure that she knew how beloved her earlier work remained. (Sandy)
P!nk
Quicken Loans Arena
March 28
Mid-way through this nearly two-hour concert before a capacity crowd at the Q, pop/rock singer P!nk apologized for a few "technical difficulties." She said a bed broke, making it so she had to improvise one of her many transitions between songs. While we did notice a brief lull at one point in the concert, if P!nk hadn't said anything about the mishap, we really wouldn't have realized there had been a miscue. Given the amount of production that goes into the show, it's any wonder more things didn't go awry. That "technical difficulty," however, hardly detracted from an engaging show that had all the production value of a Broadway show and the acrobatic thrills of a Cirque du Soleil performance. (Niesel)
Portugal.The Man
Public Hall
Feb. 18
Originally, indie rockers Portugal.The Man were supposed to play the Agora Theater. But since renovations to the Agora weren't completed by the time of this concert, the show moved to Music Hall. And then, since Music Hall had some production issues, the show wound up in the cavernous Public Hall where the band played to about 3,000 fans that filled the floor and one section of the stands. It's a testament to the band's ability to command the stage that the group had no trouble delivering a compelling performance in such a huge space — having a killer light show certainly helped. (Niesel)
Bob Seger & the Silver Bullet Band
Quicken Loans Arena
Dec. 6


While this show at the Q had a retrospective tone, the legendary Detroit-bred vocalist would only address his pending exit from the road briefly, letting the assembled audience know that it was his final tour. But seconds later, he joked, "I want to let you all know that I'll be available for weddings next year." And don't you know, we'd all love to be in the house to catch a set from that wedding band. But if we never get that chance, Seger took things out on a high note with a career-spanning two-hour set at the Q in front of a crowd that was packed in to the top of the rafters. If this was indeed the final time that we get to see Seger play Cleveland, he left the city with a lifetime of shared memories made on concert stages across Northeast Ohio that will remain intact. (Wardlaw)
Ringo Starr & His All-Starr Band
Hard Rock Live
Sept. 21
The idea of an "All Starr" band almost seems like unnecessary padding when you're talking about the main attraction, who just happens to be a former Beatle. But for nearly 30 years, Ringo Starr has brought peace and love to audiences worldwide with his unique traveling rock 'n' roll revue that mixes his own songs, both solo and with the Beatles, with a rotating assortment of hits from his fellow bandmates. For this show, the result was a surprisingly tightly constructed 24-song set that came in efficiently just under the two-hour mark. Yes, many of the Beatles songs were shorter, but the set also makes room for some stretched out jamming. (Wardlaw)
Slayer
Blossom
June 7
By the time Slayer took the stage for this multi-band show, Blossom was packed, and the rabid audience was at a fever pitch. Opening with the title track from their last studio offering, 2015's
Repentless
, the band launched into a 90-minute set which solidified its place as the kings of metal. Just shy of 20 songs, the show touched on all eras and devoured the last bits of energy contained in the already exhausted crowd. Let's hope the success of this show convinces Blossom to add more metal to the menu in the future. (Joe Kleon)
Justin Timberlake
Quicken Loans Arena
March 31
At the end of his performance of "Cry Me A River," Justin Timberlake sat down on the circular stage in the middle of the arena and took a little breather. It was part dramatic gesture — the Quicken Loans Arena crowd, of course, went wild with cheers and applause — and part functional: Timberlake's Man of the Woods tour was a physically demanding two-hour concert that packed in every high point from his solo career. By and large, this marathon succeeded in cementing once again that his place in pop's upper echelon is secure. The thoroughly entertaining, well-paced show overflowed with gravity-defying liquid dance moves, impressive stage effects and even a surprise appearance from LeBron James, who brought out a tray of shots for Timberlake and his band, the Tennessee Kids. (Annie Zaleski)
Utopia
May 19
Hard Rock Live
The first of two sold-out Utopia shows at the Hard Rock was one for the ages — whether it was simply the latest gig you'd seen by the band, or the first one, it covered a lot of ground. Structured as two sets with a brief intermission in the middle, the first half of the night was dedicated to the progressive side of Utopia with a heavy helping of material from the band's first two albums leading off the set. Opening appropriately with a lengthy run through "Utopia Theme" from their 1974 debut, they followed that with an abbreviated excerpt of "The Ikon" from that same record (the original recording runs more than a half hour), with the jazzy fusion vibes of the title track from 1975's Another Live rounding out the first segment of music and quickly putting to rest any questions about whether or not Todd Rundgren and the band were in good shape. (Wardlaw)
The War on Drugs
Agora Theatre
July 13
The brass sealed the deal for me. For my money, Jon Natchez's droning ambience on sax took most of last night's set from The War on Drugs to another level of heavy, all-encompassing American rock. Never overdone, it was properly placed in the context of each tune, each jam. That's essentially how the band works as a whole. Adam Granduciel's delicate compositions are built on a fine layering technique. In the live setting, the band replicates it beautifully. This show at the Agora was perhaps my favorite of the War on Drugs shows I've seen in Cleveland, if only because the room fit the sound. It's something I've written about before; finally, I thought, the band could swallow an entire room, high ceilings and all, and realize itself completely. (Sandy)
Weezer and the Pixies
Blossom
July 11
My fellow Ohioans!" shouted Weezer bassist and Toledo native Scott Shriner to a packed crowd that filled Blossom. "That's my people right here!" It was just one of many great moments during the enthusiastic, hit-filled set the group played. Instead of focusing on new material, the band opted for a set list of fan favorites and smash hits that dated back to the early '90s. The Pixies, on the other hand, didn't exchange a single unsung word with the crowd. The infamous garage band proved unfit for such a large venue. The high point of the set came when they played "Here Comes Your Man" because it was catchy and audible and different from the rest of their catalogue. With its catchy chorus and cool acoustic undertones, "Where Is My Mind?" wasn't far behind. (Halle Weber)
Jack White
Jacobs Pavilion at Nautica
June 6
During "Corporation," the first song in this two-hour set before a sold-out crowd at Jacobs Pavilion at Nautica, singer-guitarist Jack White and his talented backing band embarked on an extended jam that found White taking a musical page out of the Jon Spencer Blues Explosion playbook as he paused throughout the lurching song to chirp, "Who's with me?" while laying down an incredibly kinetic guitar riff. That opening number appropriately set the tone for the thrilling show that found White revisiting his extensive back catalog and freely experimenting with guitar distortion along the way. Judging by the enthusiastic response from the fans, everyone was "with him" even if that meant patrons had to lock their cell phones in an impenetrable case for the entirety of the "No Phone" show — something that made it difficult to check the score of the Cavs game. (Niesel)
Yes
Hard Rock Live
Sept. 8
As Yes singer Jon Anderson darted out into view, dancing in time with the music at the beginning of this sold-out show at Hard Rock Live, he hardly had the look of a guy celebrating 50 years in music with one band. At 73 years of age, his energy was incredible and to watch him work was to instantly be transported back 20 years, maybe even 40. With Yes marking its 50th anniversary, a scan of the crowd started to tell the tale before the music had even begun, thanks to a sea of shirts, many of them adorned with classic Roger Dean Yes artwork, representing the various eras of the group. And as the start of the show was approaching, the war stories were coming out as those in the crowd swapped tales of past Yes adventures. (Wardlaw)
Yo-Yo Ma
Blossom
Aug. 12
Nothing was more intimate than the most famous cellist in the world, Yo-Yo Ma, playing all Six Suites for Solo Cello by J.S. Bach at Blossom Music Center last summer. There are few (if any other) musicians who can convince a sold-out crowd to listen to them play one instrument for two hours and 45 minutes without any semblance of an intermission. But that's what Ma tricked an audience into experiencing. The whole event was just him and a cello on a mostly naked stage. There was no Cleveland Orchestra behind him, not a piano in sight and not even a screen with helpful visual aids to tell us how to feel. For an encore, Ma performed "Song for the Birds," bringing chills and tears to many. And then, he said "goodbye" and left us behind. We'd all survived a nearly three-hour show together, and that's something that won't easily be forgotten. (Morrison)