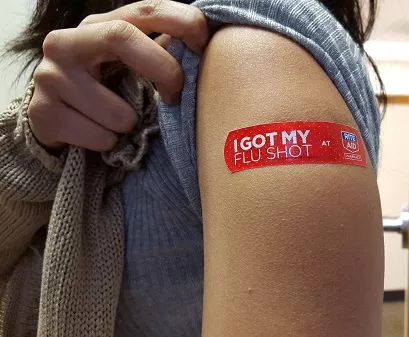 Photo via Wikimedia Commons
Last night at the Golden Globes, Hollywood's brightest stars were taken aback when hosts Sandra Oh and Andy Samberg announced that
flu vaccines
were coming their way. Suddenly, white lab-coated Rite Aid employees appeared and attempted to shoot up sitting celebs as LMFAO's classic "Shots" played in the background.
While the bit may have fallen flat in a sea of confusion, the public health message was on point, as already this season
nine
children across the country have died from flu-related complications, and many people of all ages have also been hospitalized, including in Ohio.
According to a
recent report
by the Centers for Disease Control, Ohio hasn't been hit as hard with the flu as last year, but is still considered one of 24 states with widespread flu activity. Meanwhile, Northeast Ohio continues to rule the influenza activity charts with 45 people
being hospitalized
through the last week of December, more than any other area in the state.
Cuyahoga County had it rough last year, with more hospitalizations than ever before, as well as 47 flu-related deaths, nearly surpassing that record of 52. While it's good that numbers overall are down so far this season, Northeast Ohio isn't out of the water yet, as the season can last as long as May.
To lower your chances of contracting the flu — nasty symptoms include coughing, fever, sore throat and body aches, which can lead to complications —
CDC officials (and most likely your mother) advise getting the flu vaccine (yes, even if you're not a part of the groups most at risk, such as kids and senior citizens).
Learn more reasons to be like the celebrities at the Globes and get your flu shot right
here.
Find out more about how to get ahead of the flu
with th
is information from the Ohio Department of Health.