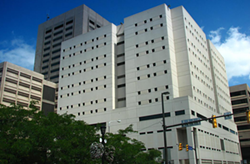 As Armond Budish and Cuyahoga County stare down a scathing and seemingly endless string of headlines concerning the Cuyahoga County Jail — an 8th inmate dying, corrections officers accused of
using force
against a man suffering from Tourette Syndrome, a guard accused of
retaliating against
an inmate who gave an interview to the U.S. Marshals, the resulting report from the Marshals that decried the dangerous and unconstitutional conditions inside the jails — there has been some progress.
The county today announced a further improvement as MetroHealth will expand health care in the facilities beyond what it was providing before. Notable in the U.S. Marshals' report was a lack of proper medical staffing, training, ignorance of mental health issues and general mistreatment of prisoners.
The new agreement, per a press release, calls for:
• Providing services that meet the accreditation standards of the National Commission on Correctional Health Care

• Additional staffing levels in the areas of medical, behavioral and addiction services and pharmacy

• High quality medical staff recruitment and training

• Adherence to suicide triage and expanded mental health services

• Expanded Medically Assisted Treatment programming

• Development of a continuous quality improvement program

• Unified medical operations at the Euclid and Bedford jails

• Correctional Officers specifically assigned to the medical unit

• Development of performance-based metrics to track program outcomes
Thirty-two additional medical members will be added to the facilities.
"I am very pleased to be able to announce this new agreement between the County and MetroHealth," Armond Budish said in a statement. "MetroHealth has long been an invaluable partner in our work throughout the County and in the jails. These inmates are in our care and deserve to be kept safe and healthy. This new, comprehensive program will be a model for the country."
If you'll remember, MetroHealth went before Cuyahoga County council to lambast the jail's medical operation, at least that which was not in the control of the hospital, last year. The nursing director, Gary Brack, who spoke at the meeting was
removed from his position thereafter
, directly as a result of Budish's personal intervention,
according to Cleveland.com.

"To have MetroHealth take over total control of the medical care at the County Jail has been a goal for many years," Councilman Michael Gallagher added in the statement. "The council worked hard to get to this point and would like to thank Dr. Boutros for staying with us through some difficult times. I'd also like to thank the entire MetroHealth community and all the leaders throughout the hospital system in providing these much-needed services."