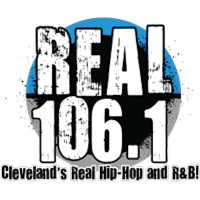 iHeartMedia Cleveland has debuted a new hip-hop and R&B radio station. Dubbed
REAL 106.1
, the station will play songs from acts such as Bruno Mars, Drake, French Montana, Lil Wayne, the Weeknd, Migos, Cardi B, Machine Gun Kelly, Travis Scott and more.
As part of its launch, the station is playing 10,000 commercial-free songs and will also give away $1000 every hour.
"We are extremely excited to add REAL 106.1 to our diverse portfolio of stations in the Cleveland market," says Keith Hotchkiss, President of iHeartMedia's North Ohio Region, in a statement. "REAL 106.1 will play the top songs from the top artists in the Urban format. As Clevelanders get to know REAL 106.1, we're confident that it will become their number one choice for Hip-Hop and R&B in the market."
The station will feature the Breakfast Club in the morning. It appears poised to compete with Z 107.9 WENZ.