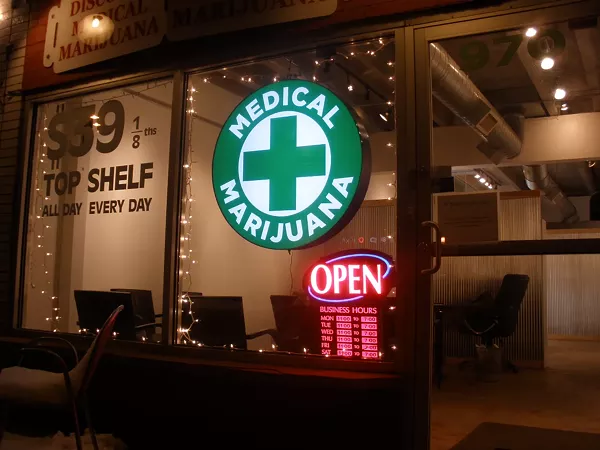 Photo Via Wikimedia
Medical Marijuana Dispensary in Colorado
After months of delays, medical marijuana is finally coming to Ohio.
Wednesday, four dispensaries around the state are set to open at 9 a.m. on the first day that medical pot becomes legal under state law.
While none of the four dispensaries are in the Cleveland area, residents can expect others to follow shortly. The four opening are Cresco Labs CY + Dispensary and Ohio Valley Natural Relief LLC, both in Winterville, just outside of Steubenville, The Botanist in Canton and The Forest in Sandusky.
Those looking to purchase the medicinal herb must receive the go-ahead from a licensed
physician.
While edibles may be coming to Ohio soon, the stores will open with just regular old pot (although it may be quite a bit stronger than your typical bud).
However, you may not want to rush to the stores just yet. With only four stores opening, they may have a tough time meeting the demands of those 3,500 people who've already been issued cards by the state. Long lines can be expected tomorrow, as well as limits on how how much product can be purchased at a time.
According to the
Akron Beacon Journal
, there are still thousands waiting to get medical cards, which will eventually flood the demand on the market even more.
So, tell Grandma she can finally fix that glaucoma, but she might want to wait a few more weeks.