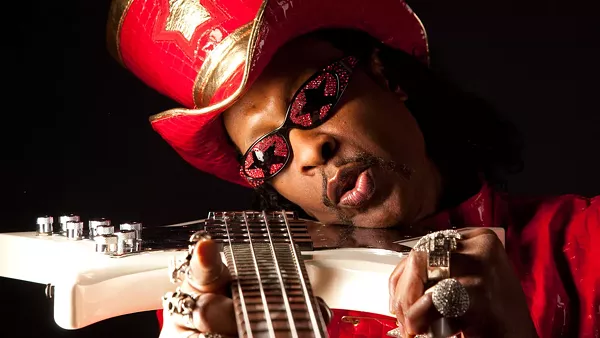 Rockhall.com
Bassist Bootsy Collins
Each year, the
Rock & Roll Hall of Fame
celebrates Black History Month with a series of special programs and events that includes film screenings and interviews.
Earlier today, the folks there announced the schedule for this year's celebration.
At 7 p.m. on Wednesday, Feb. 6, the celebration commences with a screening of
Marley
, a documentary that looks at reggae singer Bob Marley's impact on the music industry.
At 7 p.m. on Wednesday, Feb. 20, scholar Greg Tate and producer Craig Street will be on hand to discuss the influence that producer Tom Wilson had on some of the most recognizable sounds of the 1960s.
Panelists such as Angelita "DJ Misses" Owens (an on-air mixer for Cleveland's Z.107.9 and Cincinnati's 101.1 the Wiz), R Rohnesha M. Horne (Marketing Director for Radio One) and Quincy "Big Heff" Taylor (Def Jam Records & VP of Nerve DJs) will be on hand for a program dubbed A Place For Me: Cleveland's Music Industry (Feb. 27).
Bassist extraordinaire Bootsy Collins will appear at a Feb. 28 event celebrating
King Records: Thirty Years That Changed American Music 1943-1973
, a new exhibit that'll be on display at the Rock Hall Library & Archives for the month of February.
In addition, a Motown 60th Anniversary Highlight Reel will play in the Foster Theater throughout the entire month. It includes memorable moments from the induction ceremonies of the Supremes, the Temptations, the Jackson 5 and Martha & the Vandellas.
Some events are free, and some ticketed. Consult the Rock Hall website for more info.