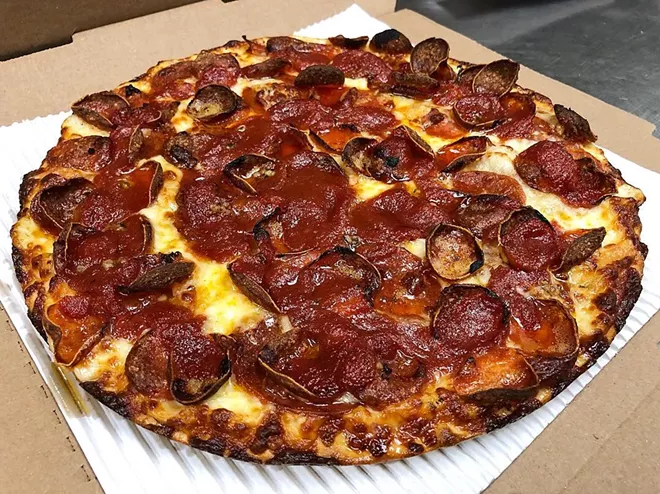 Pizza has been an important and recurring theme in Nick Robson's life. As a touring musician he made a point of hitting up pizza shops all over the country to take in the delicious variety. In between legs, he picked up shifts at the local pizza joint to make ends meet.
Robson has combined his fondness for and experience with pizza to launch
Ohio Pie Co
. (1315 1/2 Pearl Rd., 330-741-4117), which opens in Brunswick on February 9, which just so happens to be National Pizza Day. When it does open its doors, Ohio Pie will introduce pizza fans to Ohio-style pie.
"I traveled all around the country touring for years, and all these areas had their own regional styles," explains Robson, who also runs the fitness apparel company Live Large. "Ohio and Cleveland are severely underrated when it comes to food. I always thought we deserved our own thing and not just second- or third-rate versions of Chicago or New York or whatever style it may be. We needed our own original."
According to Robson, Ohio-style pie starts with the crust, which he describes as the classic Cleveland chassis.
"It's a little bit buttery, mid-thickness crust that can hold up to a good amount of sauce, a good amount of cheese, and a good amount of toppings," he says. "From there I sort of borrowed elements from shops around the country that I really loved to come up with my own dream Frankenstein pizza."
Qualities like a thin-but-not-too-thin crust, subtly sweet sauce, edge-to-edge cheese, and square-cut round pie combine to form Robson's ideal adaptation. Guests can design their own pizza from a list of toppings or go with a specialty pie like the Heartburner with double pepperoni, double cheese and double garlic oil. Folks who like surprises should order Nick's Pick, where "You get what you get." Weekend mornings usher in a roster of brunch pies starring toppings like bacon, egg and potato on an "everything" crust with a cream cheese white sauce.
A trio of salads and fresh-baked cookies round out the concise menu.
Ohio Pie primarily is a delivery and carry-out operation, but there are a few tables for dine-in visitors.
Robson's partner in the business is Cleveland designer and longtime friend Aaron "Pants" Sechrist.