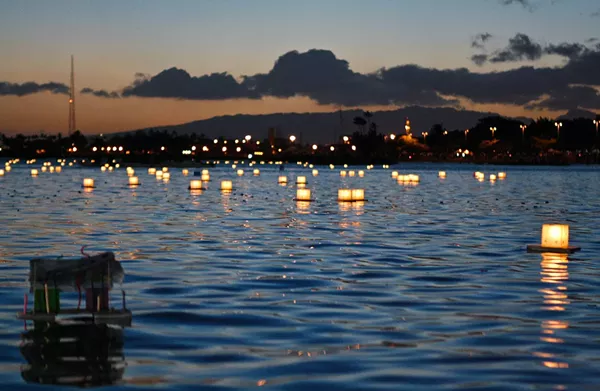 Photo by Shireen Garcia/Flickr
The shores of Lake Erie will be bright this June when the
Water Lantern Festival
comes to Cleveland for the first time.
The event, held at Voinovich Park June 15, invites attendees to write positive messages on rice paper lanterns before sending them off into the water.
Traveling to 80 cities in America this year, the Water Lantern Festival is also making its way to Columbus, Cincinnati and Dayton.
Festival attendees can expect plenty of food trucks, kids activities, live music and good vibes from 6 p.m. to 9 p.m., with the LED candle-lit lantern ceremony beginning at 9:30 p.m.
The purchase of one adult ticket includes entry into the festival area, a floating lantern, marker, wristband and a drawstring bag. You can also donate to the nonprofit,
Water.org
when you buy a ticket.
Prices
are $30 until May 31, $35 until June 14 and $40 the day of the event.
Sign up for Scene's weekly newsletters to get the latest on Cleveland news, things to do and places to eat delivered right to your inbox.