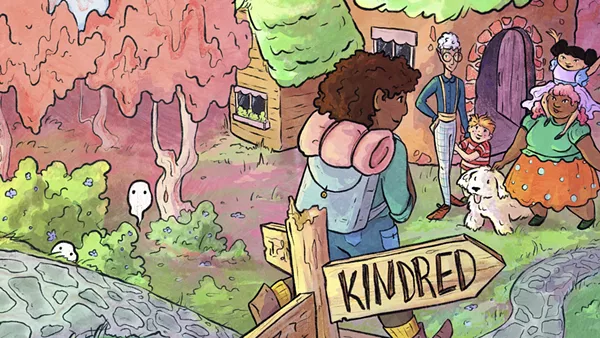 Artwork by Stephanie Haught
Sequoia Bostick and Amalia DeGirolamo started the Cleveland-based
Vagabond Comics
back in 2015, when they'd just graduated college and were trying to figure out how to get their art seen by a wider audience.
The first issue's pages were filled with their own comic strips, along with art from four other friends. Now, the co-creators are preparing to release the 10th issue of Vagabond Comics, hopefully by April. As it's full color, they've launched a Kickstarter
campaign
to help cover costs.
"We find with our anniversary issues, we bring a more serious tone to the content," Bostick tells Scene. "...Giving the artists a deeper theme to work with, it's worthy of full color."
Bostick, who, along with DeGirolamo, was featured in
this year's
Scene
Comics Issue, explains that the upcoming Vagabond issue's theme is Kindred. Each of the 17 participating artists were asked to create a comic showing their idea of what family and/or community looks like to them.
While Vagabond started out as a place for Cleveland comics illustrators to show their talents, the curators have begun taking submissions from all over the world.
"We want to accept as many kinds of people and artists in our pages," Bostick says. "When we opened [submissions] up to the whole internet, we get our work out there and also get to see other people's work, and that's exciting."
Now running 60 to 100 pages per issue, Bostick says she hopes to see the anthology continue to grow in page count and audience.
"We market ourselves as an all-ages anthology to reach as many people as we can," she says. "I work with kids a lot and I like to share stories with them. I like to show them that comics aren't just about superheroes."