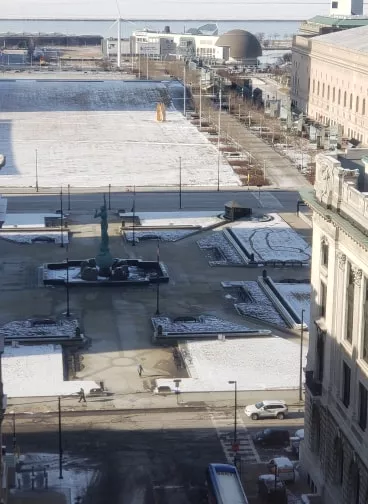 Those lucky enough to work near, or visit, the Cleveland Mall lawn yesterday were in for a special treat, with a hard-to-miss fresh penis expertly drawn into the snow.
Seen clearly from above in nearby office windows and hotel rooms, one such person shared their view with us (see above on the right side of the photo.)
This is at least the second time this winter that a graffiti artist has gotten busy on the Cleveland Mall. Back
in December
, an even larger member was documented on a wider part of the lawn.
We're left with so many questions: Is this person acting alone? Is this even the same person as before? Do they believe drawing penises in the snow is funny? How funny? Are they in fifth grade? Does their mother love them? Have they been inspired by the Netflix faux-documentary series
American Vandal
? When will they strike again?
While so much remains a mystery, this piece of "artwork" isn't surprising. It's just another snow day in Cleveland.