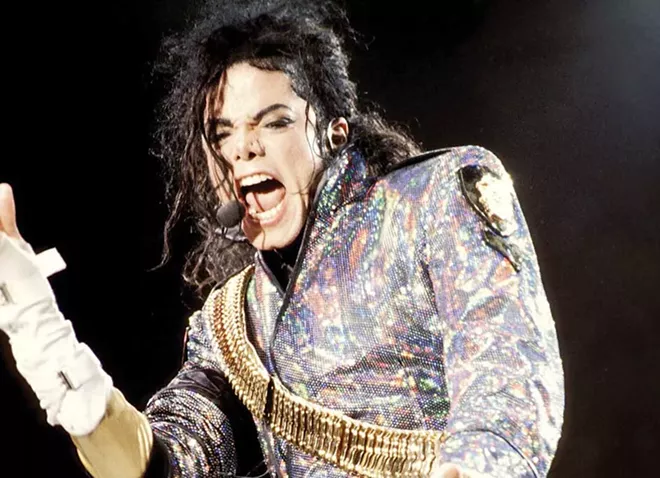 Photo via Wikimedia Commons
Michael Jackson's legacy isn't being erased anytime soon at Cleveland's Rock & Roll Hall of Fame, the museum recently announced.
Since the recent release of HBO's
Finding Neverland,
a documentary which once again brought to light child sexual abuse allegations against Jackson (and that Jackson's Estate has vehemently refuted), pop music fans have had to
grapple
with how to move forward.
So far, despite its graphic and disturbing details, the
Oprah-approved
film has failed to completely topple the star's legacy. Some Canadian radio stations
have
stopped playing Jackson's hits, and Louis Vuitton removed some Jackson-inspired
clothes
from a recent collection. But many American radio stations have chosen to keep the King of Pop's tunes in rotation, and the Rock Hall just announced it's keeping its Jackson memorabilia on display.
The Rock Hall, which has multiple sparkly Jackson items currently on display, has essentially stated that musicians are recognized for their musical abilities and nothing more.
Here's their statement:
"Michael Jackson was inducted into the Rock & Roll Hall of Fame as a member of the Jackson 5 in 1997 and as a solo artist in 2001. As with all of our inductees, Jackson was recognized for musical excellence and talent as well as having a significant impact on rock & roll, and was elected by a diverse voting body of historians, fellow musicians, and music industry professionals. Original artifacts and memorabilia from many artists' lives and performances are on display in our exhibits. There are no plans for this to change."
Michael's sister, Janet Jackson, will officially be inducted into the Rock Hall at Brooklyn's Barclays Center ceremony Friday evening.
Sign up for Scene's weekly newsletters to get the latest on Cleveland news, things to do and places to eat delivered right to your inbox.