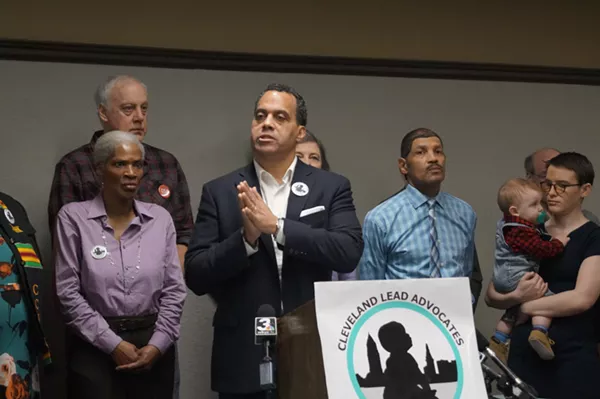 Sam Allard / Scene
Former Councilman Jeff Johnson at a CLASH press conference.
It's clear that Cleveland City Council will not voluntarily introduce the lead-safe legislation that Cleveland Lead Advocates for Safe Housing (CLASH) wrote and hoped to place on the November ballot through a citizen petition drive.
At council's weekly meeting Monday evening, the legislation itself went unmentioned. So did the petitions, which were rejected by council clerk Pat Britt last week because they failed to include an all-caps statement about election falsification.
Members of CLASH gathered at City Hall, donned in white t-shirts, and distributed a letter to all council members as they entered the chambers. The letter said that Britt's decision not to certify the 6,350 signatures, (which had been validated by the county board of elections), was in defiance of the City Charter and dismissive of the citizens who signed their names.
"CLASH agrees that the petitions lacked the 13-word sentence required under state election law," the letter said. "However, state law does not override the Charter, which states that a proposed ordinance first be submitted to council upon a certification of 5,000 valid signatures."
The letter said that the missing sentence only would come into play
if the bill is not passed by City Council.


CLASH asked council members for a "full and complete review" of the proposed legislation and sought an "unequivocal commitment" to public hearings and an eventual vote.
It sounds like they won't be getting them.
Only councilmen Kevin Conwell and Blaine Griffin acknowledged CLASH's attendance Monday, during the "miscellaneous" portion of the meeting.
"It's hurting me to see that we're battling with one another on the lead issue," Ward 9's Conwell said. "I'm not happy about it, but I talked to the chairman and I've got to respect the chairman. I know the chairman will do what's right."
(Correction: The Chairman to whom Conwell referred is Blaine Griffin, the chair of council's Health and Human Services Committee, not Kevin Kelley, as a previous version of this story said.)
Kevin Kelley has maintained throughout the process that the best way to deal with the lead crisis is through the public-private Lead Safe Cleveland Coalition, an organization of more than 200 community partners — established, incidentally, in the weeks before CLASH announced that they intended to take the issue to a public vote, and nearly two years after former councilman Jeff Johnson introduced legislation to tackle the very same crisis.
Councilman Blaine Griffin spoke up at the meeting as well, playing the mediator and extolling the virtues of Cleveland's democracy: "It's like iron sharpening iron," he said. "Even though we have fervent disagreements in this city, we all care deeply and are very passionate about this city."
Griffin said that while it's important to acknowledge the 10,000 people who signed their names to the CLASH petition, and equally important to "hear the voices of the people," when they sign petitions of this kind, Cleveland City Council had an additional — presumably higher — responsibility: "to stick with the timeline, to stick with the game plan, to really come up with a solution."
The Ward 6 councilman said that the Lead Safe Cleveland Coalition's policy committee would be making recommendations by May 1, and said he fully anticipated having discussions with the community about those recommendations by May 6. (Members of the policy committee, for the record, have told Scene that the group is working hard and earnestly to craft a thorough set of recommendations.)
Griffin reiterated comments he has made recently about viewing solutions to the lead crisis in holistic terms (i.e. beyond legislation). He reminded CLASH that council had to make sure "resources are in place, good community engagement is in place and staffing is in place."
"Whatever we do, Mr. President, must be sustainable, preventative and comprehensive over a long period of time so that we don't continue to have this conversation five, 10 years down the road. I'm proud to say that this community — both council and members of CLASH — are saying that we have to do something about the lead issue, and I'm proud that we're all going to be a part of the solution."
Diplomatic words, no doubt.
But the idea of "sticking to the timeline" is awfully rich coming from Griffin,
who promised that
city council would have lead legislation on the books by the end of 2018,
and as recently as February
, wouldn't commit to having legislation completed by the end of
2019.

It was a good speech, but council's actions and posture suggest that not "everybody" is going to be a part of the solution. In fact, it seems like they'd prefer if "everybody
but CLASH
" got to be a part of the solution. This is the standard anti-grassroots playbook, and the latest example of council putting far greater stock in
who
gets to be part of a solution than the solution itself.
Just recall, once again, that Jeff Johnson had legislation ready to go in 2017. No amount of revisionism and praise for public-private partnerships and stressing the need to think broadly and holistically can change that. As CLASH attorney Rebecca Maurer has said repeatedly, conversations about resources and staffing are important conversations, ones that should be held
during the legislative process.
That's what committee hearings and amendments are for.
In any case, CLASH doesn't appear to be backing down. They say they are actively working to take the petition issue to court — unsurprisingly, they are citing the Ohio Supreme Court
decision in Langhenry vs. Britt
to argue that Britt has once again overstepped — and are prepared to gather another around of signatures if they can't persuade a judge.
*Disclosure: The author signed the CLASH petition.

Sign up
for Scene's weekly newsletters to get the latest on Cleveland news, things to do and places to eat delivered right to your inbox.