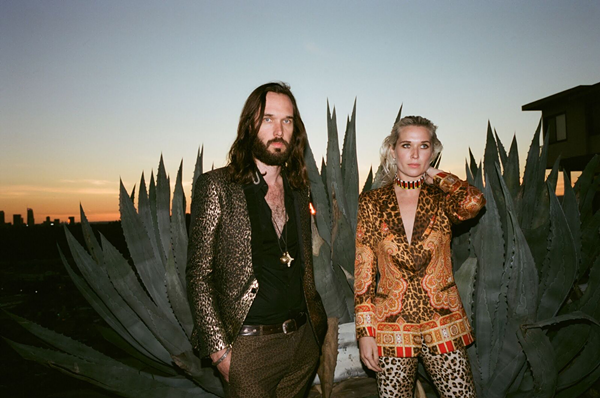 FRIDAY, APRIL 19

Wild Belle
A Chicago-born Los Angeles-based sibling duo, the indie rock act Wild Belle features Natalie and Elliot Bergman. The group released its third studio album,
Everybody One of A Kind
, earlier this year and comes to town tonight on a club tour before opening for Beck, Spoon and Cage the Elephant this summer. The duo has had their works displayed in prominent art galleries and directed their own music videos (Natalie Bergman animated the video for "Have You Both" and does collage, and her brother has showcased his "Peace Bells" installation at the prestigious Marciano Foundation). Elliot Bergman also makes bells by melting down guns and bullet casings from Chicago. The disc nicely veers from reggae-tinged rock tunes such as "Mockingbird" to electronica ballads like the woozy title track. (Jeff Niesel), 8 p.m., $14 ADV, $17 DOS.
Beachland Ballroom
.
The Anti-Queens
The Anti-Queens are Four friends from Toronto who "write and perform rock 'n' roll songs with a hint of punk/grunge/pop." In keeping with that description the band has bestowed upon itself, the group sounds like a more melodic version of grunge rockers L7. They affectionately refer to themselves as "8 tits with some instruments," and their snotty vocals and driving guitars suggest an affection for old school punk rock. (Niesel) 7 p.m.
Iggy's
.
Eric Church
When country singer-guitarist Eric Church performed at the Q five years ago, he really fed off the audience's energy and drew on his rock roots to put on an energetic show. At one point, he even took a request from a fan at the front of the stage and played "Chevy Van," a cover tune that he said he hasn't played in years (he had to pause to remember the lyrics but he made it through without a glitch). And he regularly ran out onto the catwalks that extended onto the floor to slap high fives with patrons. Expect something similar tonight when Church comes to town tonight for the first of two shows in support of
Desperate Man
, a somber album that starts with "The Snake," an ominous tune that sounds like it could've been on Springsteen's
Nebraska
. (Niesel), 8 p.m., $20-$126.
Rocket Mortgage Fieldhouse
.
SATURDAY, APRIL 20

The Numbers Band (15-60-75)
A local institution that formed way back in 1970, the Numbers Band (15-60-75) has had numerous lineup changes over the years. But bandleader Bob Kidney has said the musicians in the avant-blues band have been committed to doing "something unusual." Kidney also says the band regularly digs up songs from its past and brings them back into the set lists, so you never know what the group might play on any given night. (Niesel) 8 p.m., $10.
Nighttown
.
SUNDAY, APRIL 21

Camp Cope
This indie rock band's latest album,
How to Socialise & Make Friends
, received a slew of Best of 2018 accolades from publications both hipster (
Brooklyn Vegan
,
Pitchfork
) and mainstream (
Billboard
,
NPR
). The disc veers from the twangy opener "The Opener" to the careening title track as talented singer Georgia McDonald delivers with her vocals with a frenetic sense of urgency. (Niesel) 8 p.m., $12 ADV, $14 DOS.
Mahall's 20 Lanes
.
Health/Youth Code
An acclaimed L.A.-based noise band, HEALTH comes to town tonight in support of its new album,
Vol. 4 :: Slaves of Fear
. Produced by longtime collaborator Lars Stalfors (Lil Peep, St. Vincent, Bob Moses), the album alternates between industrial rock-strength songs such as "Psychonaut" and more dance-oriented numbers like "Feel Nothing." The group also recently issued
Grand Theft Auto Online: Arena War
, the official soundtrack for the new
GTA
game. (Niesel) 8:30 p.m., $18 ADV, $20 DOS.
Grog Shop
.
Ana Popovic
A dynamic blues guitarist who regularly comes to Northeast Ohio, singer-guitarist Ana Popovic comes to the Kent Stage tonight in support of her new album
Like It On Top
, a disc that focuses on "empowered, successful, inspiring" female role models. Recorded in Nashville and produced by four-time Grammy winner Keb' Mo', who guests on the album's sultry opener, the bluesy album also features guest appearances from Kenny Wayne Shepherd and Robben Ford. (Niesel) 7:30 p.m., $32-$35.
The Kent Stage
.
Sign up for Scene's weekly newsletters to get the latest on Cleveland news, things to do and places to eat delivered right to your inbox.