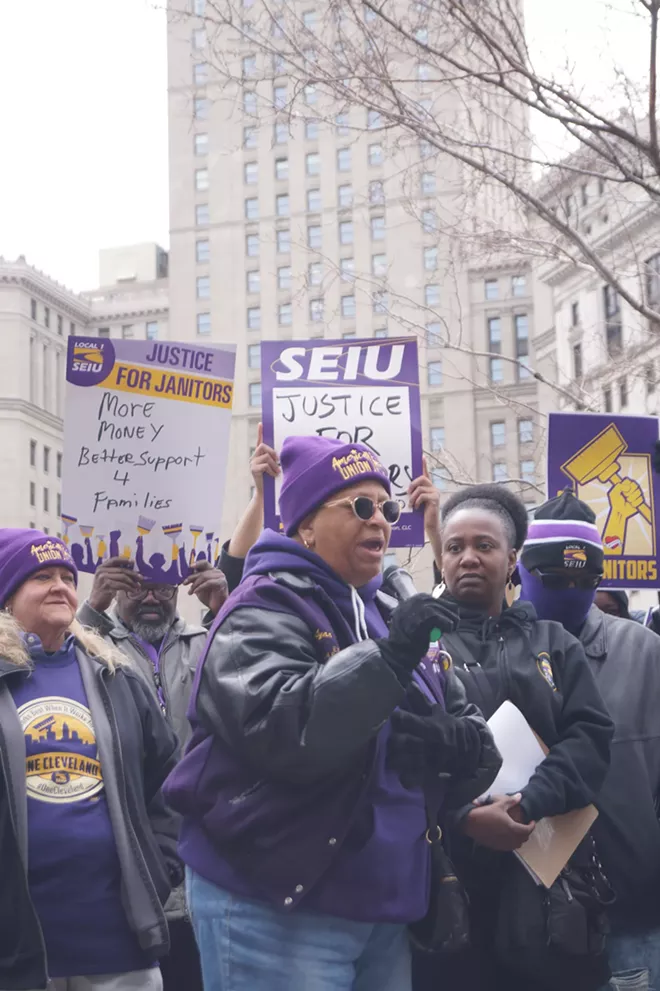 Sam Allard / Scene
Janitors rally before a Trolley tour, (4/4/19).
Janitors with Service Employees International Union Local 1 (SEIU) won a "historic victory" this weekend when members unanimously ratified a new downtown master contract that will pave the way for a $15 hourly wage.
The five-year agreement covers many of Cleveland's most notable downtown properties — Tower City, 200 Public Square, the Ernst and Young Building among them. The 500 janitors who keep these properties clean will see their wages increase by as much as 25 percent by 2023.
In a press statement Saturday, SEIU said that the wage hike was four times higher than what janitors won in their previous contract, and that the additional wages translate into an extra $13,104 to $16,744 for each downtown janitor over the life of the agreement.
"Our janitor-led 'One Cleveland' campaign has proved to be a historic success, and I'm so proud of how we came together to win a better future for our city," said Brian Yarbrough, a janitor at the Fifth Third Center, in the statement. "The wages and benefits we won will provide a game-changing boost for our families and Cleveland's most neglected communities. While Cleveland janitors have won a major victory, we won't stop until all Ohio janitors earn at least $15 and can fully support their families."
The contract negotiations occurred as part of SEIU's "One Cleveland" campaign. Among other things, it sought to dramatize the injustice of poor janitors of color — SEIU Local 1's membership is majority black and majority female — cleaning some of the city's most generously subsidized buildings. The downtown master contract agreement follows similar agreements at Cuyahoga Community College (Tri-C), the Cleveland Orchestra and the ArcelorMittal Steel Mill. Most of these workers are now on pathways to $15.
All told, the increased wages, affecting 700 janitors, will inject roughly $11 million into Cleveland's low-income neighborhoods.