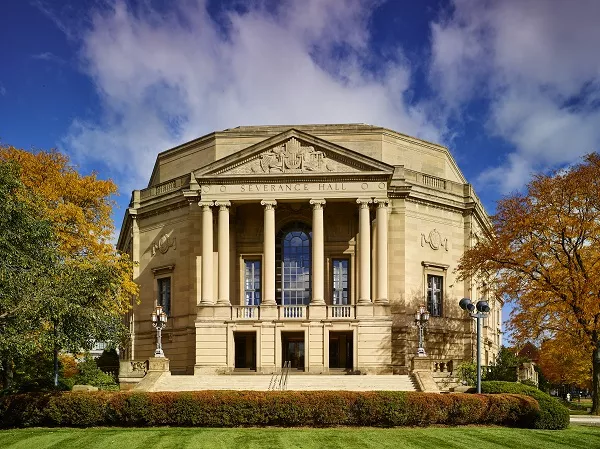 Photo by Roger Mastroianni, Courtesy of The Cleveland Orchestra
Tchaikovsky dedicated his popular Violin Concerto to Leopold Auer, who originally declined to play the work, though he performed a revised version later in his career. In an interesting link to history, Auer's very own 1690 Stradivarius will make an appearance at Severance Hall this weekend in the hands of Israeli violinist Vadim Gluzman, who will play the Tchaikovsky work with Michail Jurowski and
The Cleveland Orchestra
. Shostakovich's Symphony No. 11, subtitled "The Year 1905" — written in the aftermath of the Soviet invasion of Hungary — fills out the program. Performances are on Thursday, May 2 at 7:30 pm, Friday and Saturday, May 3 and 4 at 8:00 pm, and Sunday, May 5 at 3:00 pm. Click through to the
Severance Hall box office
for tickets.
The
John Knox Performance Series
hosts Shuai Wang's Ars Futura Ensemble for a concert of contemporary music for flute, cello, and percussion by Osvaldo Golijov, Jacob Druckman, György Ligeti, Geoffrey Peterson, and Andrew Rindfleisch on Friday, May 3 at 7:30 pm. The concert at John Knox Presbyterian Church in North Olmsted is free, but donations are welcome.
Blue Water Chamber Orchestra
would like to tell you stories this weekend at Plymouth Church in Shaker Heights. Daniel Meyer — just named Music Director of the ensemble — will lead music by John Corigliano, David Diamond, Edward Elgar, and Maurice Ravel. Their pieces were inspired by classic tales ranging from Shakespeare's Romeo and Juliet to Mother Goose. Tickets can be reserved
online
for the concert on Saturday, May 4 at 7:30 pm.
Music of the early English church dedicated to the Virgin Mary fills two concerts by
Quire Cleveland
this weekend. Jay White will lead the 22-voice professional ensemble in the program "Ave Maria: England's Rose," featuring pieces by John Dunstable, Leonel Power, William Cornysh, William Byrd, Richard Dering, Peter Philips, Robert White, and Robert Parsons.
Performances are on Saturday, May 4 at 7:30 pm at Lakewood Congregational Church and Sunday, May 5 at Historic St. Peter Church in downtown Cleveland — freewill offerings at both concerts. You can also hear the music being polished during a free open rehearsal at the Lakewood venue on Friday, May 3 from 6:45 to 9:30 pm —
online reservations required.
Duo pianists Luis Magalhães and Nina Schumann
will play the season finale of the Tri-C Classical Piano Series on Sunday, May 5 at 2:00 pm in Gartner Auditorium at the Cleveland Museum of Art. The free program includes music by famous composers arranged by other famous composers — Mozart by Grieg, and both Chopin and Liszt by Saint-Saëns.
Another season finale on Sunday, May 5 includes a personnel change.
Arts Renaissance Tremont
will host the Paul Ferguson Jazz Quintet with vocalist Evelyn Wright at Pilgrim Congregational Church. The 3:00 pm concert is free, but donations will be appreciated.
And on Tuesday, May 7 at 7:30 pm,
soprano Gabrielle Haig
will team up with pianist Randall Fusco and Cleveland Orchestra hornist Jesse McCormick in "An Unpredictable Nature." The concert in Tucker Hall at St. Paul's Episcopal Church in Cleveland Heights will feature music by Purcell, Schubert, Berg, Bizet, Respighi, Barber, and Johann Strauss. A freewill offering will get you in.
Check out details of these and other events on our
Concert Listings page.