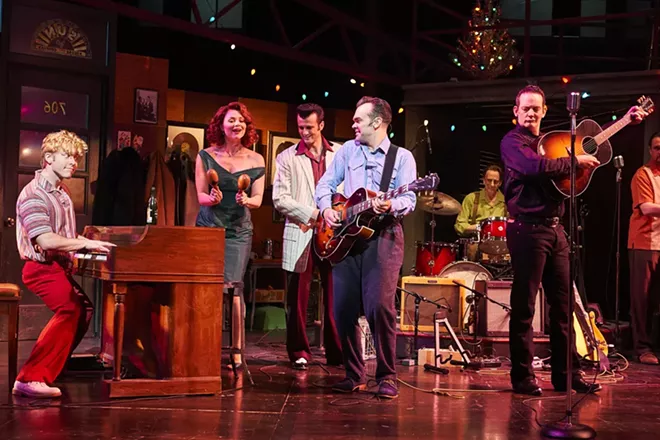 Photo by Roger Mastroianni
People used to believe that rock 'n' roll music would be a short-lived phase —only a juvenile delinquent-instigating, sexually promiscuous blip in the radio waves.
We know very well, especially here in Cleveland, that rock never died, but Great Lakes Theater's production of Million Dollar Quartet is a first-class example as to why rock gained an audience in the first place.
The show is based off of the December 4, 1956 night that Elvis Presley, Jerry Lee Lewis, Carl Perkins and Johnny Cash recorded an impromptu jam session at Sun Record Studios. A recording of this aligning of the stars, called Million Dollar Quartet, was later released in Europe in 1981.
Million Dollar Quartet, which has a book by Colin Escott and Floyd Mutrux and opened on Broadway in 2010, consists mostly of songs. Rather than a musical, this show is more of a musical revue, within which dialogue and plot falls to the wayside while musical performances take center stage.
James Ludwig, playing Sam Phillips, the owner of Sun Records, narrates the story directly to the audience, introducing each of the musicians while giving short descriptions of their backgrounds.
Phillips is sometimes coined the "Father of Rock 'n' Roll." However, while he would often discover the stars, he couldn't keep them at his label forever. And so, during the quartet's recording session, Phillips considers selling his label and following Elvis to RCA Victor.
And this serves as the thin storyline that takes place between the songs of Million Dollar Quartet.
While it was thin and the resulting outcome quite predictable, the storyline added dialogue, often delivered by a passionate and pointed Ludwig, that effectively broke up the show's whopping 22 songs.
What made the show most impressive was the high caliber of musical talent sitting only feet away from you in the cool, multi-level Sun Records Studio designed by Adam Koch.
Under the direction of Hunter Foster and musical direction of James Barry, GLT's show brings Elvis, Jerry Lee Lewis, Carl Perkins and Johnny Cash to life on stage.
Sean Michael Buckley certainly has the swinging hips to portray a convincing Elvis. In fact, he also has a similar look, charisma and voice. Buckley's personality and charm were radiant and had many audience members beaming.
Carl Perkin's hit, "Matchbox" was one of the songs Perkins originally entered the studio to record before a jam session broke out. James Barry, who plays Perkins, did this song, and all the rest, justice. While his voice was great, his skills on the guitar were doubly impressive.
In the same vein is Gabe Aronson as Jerry Lee Lewis. Aronson pounded on the keys with a real wild child mentality. His ability to play rhythmic tunes while blindfolded and bent backwards was a real testament to his familiarity with the instrument and his musical intuition.
Just as talented were Eric Scott Anthony on stand-up bass and Dave Sonneborn on drums, playing the supporting characters Brother Jay and Fluke, respectively.
Sky Seals was the man in black and was dressed appropriately so by costume designer Lauren T. Roark. Seals has a deep, bass-baritone voice to match that of Cash's revered sound, which is especially notable in "I Walk the Line."
However, this song wasn't actually played during the real jam session in 56, within the recording of which, Cash's voice is scarcely heard. While the musical is based off of the session, the songs vary widely from the actual recording that was released, which consisted mostly of gospel music.
Instead, the show gives each character an equal chance to shine with their own, highly recognizable and signature tunes. These signature songs were often given lighting designed by Kirk Bookman to reflect the star that made them famous.
Likewise, Elvis' girlfriend, who tagged along to the studio, Marilyn Evans, is renamed Dyanne in the show and is played by Kristen Beth Williams. Williams sings two of her own well-performed sultry songs, while also adding female vocal support to the quartet.
The show did include a few gospel songs, however, the most beautiful of which was a soft rendition of "Peace in the Valley" by the quartet and Dyanne.
While it will never be possible to hear Elvis, Johnny Cash, Carl Perkins, (and highly unlikely to hear Jerry Lee Lewis) in the flesh again, the performances in GLT's Million Dollar Quartet will give you a run for your money.
Through May 26 at the Hanna Theatre, 14th St. and Euclid Ave., $13 - $89, call 216-241-6000 or visit to
greatlakestheater.org
.