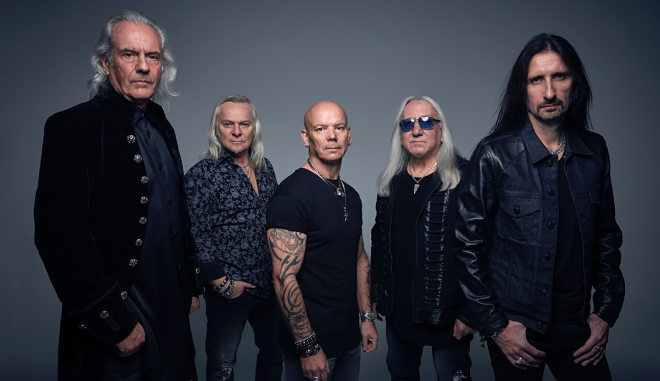 FRIDAY, MAY 10

Uriah Heep/ProgNation
After debuting in 1970 with the release of
Very 'Eavy, Very 'Umble
, the hard rock act Uriah Heap has gone to great success and has since sold in excess of 40 million albums worldwide. To this day, they continue to play 125 shows a year, and the band's live set features the band's classic tracks from the '70s and material from last year's
Living the Dream
, an album that features operatic vocals and the band's proggy mix of guitars and keyboards. (Jeff Niesel) 8 p.m., $44-$64.
The Kent Stage
.
KT Tunstall/Maddie Ross
Singer K.T. Tunstall, who started playing piano when she was only 4, launched her career with 2004's Eye to the Telescope, an album that became a hit after she re-released it with "Black Horse and the Cherry Tree," a tune that wasn't actually on the initial pressing. Then, she had an even bigger hit with "Suddenly I See," a track that was used in
The Devil Wears Prada
. Hillary Clinton even used the track in 2008 as part of her presidential campaign. Relentless touring and recording followed until Tunstall hit the wall a few years ago. She went to the Sundance Film Institute Film Music Program and learned to write music for soundtracks. Invigorated, she returned to the studio three years ago to cut
KIN
, an album of "big pop songs." The second part of that trilogy, last year's
WAX
, is another solid effort. One album highlight, "The River," starts as a pretty pop number with percolating synths and falsetto vocals. It eventually builds as Tunstall adopts a bluesy wail, and the guitars and drums kick in. Expect to hear it along with a mix of old and new songs at tonight's show. (Niesel), 8 p.m., $25-$99.
Beachland Ballroom
.
Julia Michaels/Josie Dunne
"Issues," a stripped-down acoustic track that's become a hit for young singer Julia Michaels, finds Michaels talking about a dysfunctional relationship, owning up to her deepest insecurities but proceeding to point out that her partner struggles in the same areas. Michaels has always viewed writing as a therapeutic process and a way to not only feel heard but to also help others feel heard as well. "Into You," a piano-based confessional on
Inner Monologue Part 1
, also tells a story of Michaels avoiding social interaction at home, but it's a different kind of discomfort that she's dodging. The EP also offers "What a Time," an acoustic collaboration with Niall Horan, a love letter for the memories that a past relationship left behind. With James Bay, Keith Urban and Lauv all working with Michaels on singles last year, she is quickly becoming a key player in the duet game. (Halle Weber) 8 p.m., $22 ADV, $25 DOS.
House of Blues
.
The Shootouts (in the Supper Club)
This local band takes inspiration from old-school acts like Merle Haggard, Loretta Lynn and Patsy Cline. It recorded its debut album, Quick Draw, last year at the Bunker Studios in Brooklyn with producers Jim Campilongo (the Little Willies, Cake) and Luca Benedetti. Campilongo and Benedetti were the production team behind Zephaniah Ohora's debut album,
This Highway
. Highlights from Quick Draw include "Must Be Love," a tune written by Stacey Earle, and "If We Quit Now," a duet written by local singer-songwriter Marc Lee Shannon. Veteran pianist Jon Cowherd (Rosanne Cash, Iggy Pop, Joni Mitchell) backs the band on the closing number, "Losing Faith in Being Faithful," a track co-written by Humbert and Shootouts sideman Al Moss. "If I Could" features twangy guitars, and Humbert practically has to rap to keep up with the frenetic tempo. 8 p.m.
Music Box Supper Club
.
SATURDAY, MAY 11

Cleveland International Records Relaunch Concert with Joe Grushecky & the Houserockers/Dirty Dan of the Boyzz/Cerny Brothers
The Cerny Brothers will give area fans a taste of what they're all about during their set at the tonight's Cleveland International concert, which will serve as a relaunch celebration for the label. As it happens, they've played the venue a couple of times in the past, most recently in 2016. They'll be joined by a couple of Cleveland International veterans, including "Dirty" Dan Buck, who will bring the music of the Boyzz back to town after a lengthy absence. (Matt Wardlaw) 8 p.m., $20 ADV, $22 DOS.
Beachland Ballroom
.
The Sublets/Lemon Sky/All is Harvest/American Takeout
A local rock band with punk/pop/alternative influences, the Sublets recall acts such as Weezer, Green Day and Blink-182 with songs such as "Misunderstand," a track that features snotty vocals and a really keen sense of melody. Expect to hear it and more at tonight's show, at which the band will announce that former Seafair singer Chayla Hope will become the group's new lead singer. (Niesel), 9 p.m., $10.
Grog Shop
.
SUNDAY, MAY 12

Tony Bennett/Antonia Bennett
At the age of 92, crooner Tony Bennett somehow hasn't lost a step. His latest album,
Love Is Here to Stay
, topped the charts upon its release, and Bennett recently published his sixth book,
Tony Bennett: On Stage and in the Studio
. The crooner comes to town tonight on his I Left My Heart tour. Bennett's daughter, Antonia Bennett, will open the show and present a collection of jazz/pop standards. (Niesel) 7:30 p.m., $67.50-$127.50.
Packard Music Hall.

Sign up for Scene's weekly newsletters to get the latest on Cleveland news, things to do and places to eat delivered right to your inbox.